From the ex presenter of the cult TV show Dirty Sanchez, Matt Pritchard, comes the BBC's first ever vegan cookery programme, you can now find all his easy vegan recipes in this accompanying book.
" I can't believe that something that is not actually meat tastes so much like it. I tasted a seitan chicken nugget and honestly thought I was eating the real thing. Vital wheat gluten is available online and this version tastes amazing (though if you are gluten intolerant, then this is a no-no!)."
Matt Pritchard

Ingredients
For the Seitan
230g vital wheat gluten
30g nutritional yeast flakes
2 tablespoons plain flour
1 tablespoon olive oil
250ml vegetable stock or water
For the poaching stock
1 large garlic clove
2.5 litres cold vegetable stock
1 tablespoon tomato puree
120ml soy sauce
For the coating
Vegetable oil, for deep-frying
250g rice crumbs
Instructions
Mix the vital wheat gluten, nutritional yeast, flour and olive oil in a bowl. Slowly add the stock or water and combine with your hands until you have a dough ball. Knead the dough for 4-5 minutes or until it is easy to handle and elastic. Now divide it into 4 equal chunks
Stir together the poaching stock ingredients in a pan and place the seitan carefully in the stock. Put a lid on the pan. Bring the poaching stock to boil, then reduce the heat to medium-low and simmer for 30 minutes. Ensure the seitan is covered in liquid throughout cooking. Remove the pan from the heat and leave the seitan cool in the stock. Once cooled, cut it into bite-sized chunks, ready for coating.
Pour enough vegetable oil into a medium sauce pan for deep-frying and heat it up.
Put the rice crumbs into a shallow bowl with a bowl of water next to it. Dip each seitan chunk in the water, then roll in the rice crumbs. )if they don't stick, mix a little plain flour into the water). Lower the coated seitan into the hot oil and cook for 2 minutes, until golden. Drain on kitchen paper and use as a mat substitute with dips, in, curries, kebabs or fry-ups.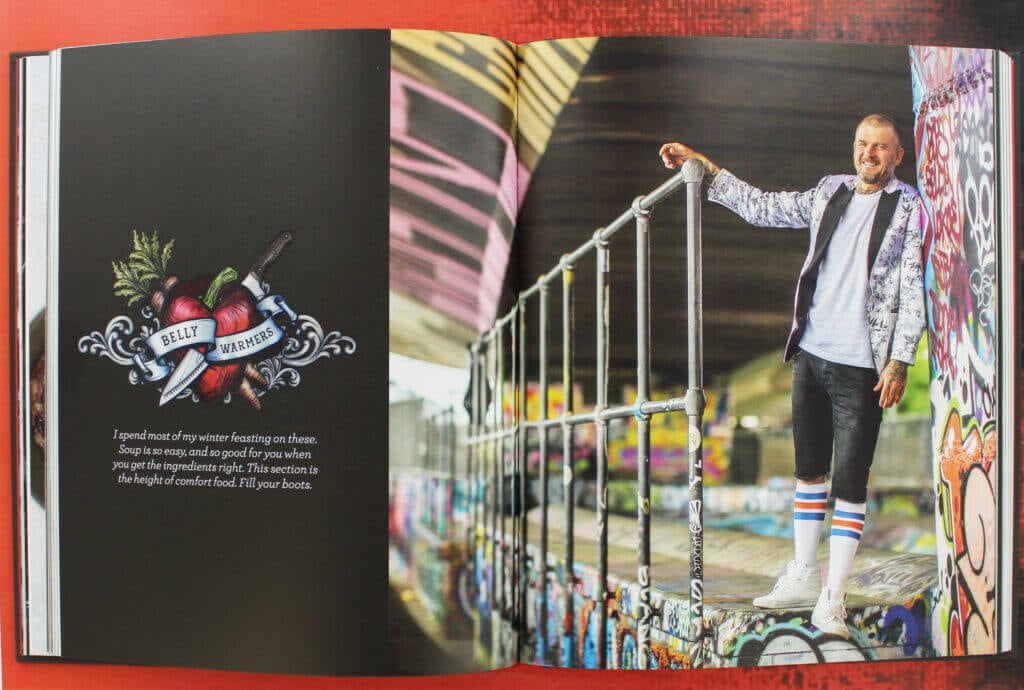 Find more Deliciously Dirty Vegan recipes in the book here.