Everybody loves a good jigsaw, whether you're looking for a personal challenge, a way to relax & unwind, or a fun activity with friends and family, the Wasgij puzzle range has it all!

Sure to make the perfect gift, these hilarious and unique jigsaw puzzles are available in a range of designs and sizes, with varying pieces for different ages and abilities. With everything from the Queen's Jubilee to Christmas and football fever, choose from a range of Wasgij themes.

Wasgij Destiny is the puzzle concept where you have to predict the future of the characters and scene in the image printed on the box.

Wasgij Original is the unique what are they looking at puzzle concept in which puzzlers have to work out the cause of the scene in the puzzle box image and discover why the characters in the illustration are looking so shocked.

Wasgij Mystery is the 'What happens next?' puzzle concept where puzzlers have to use their imagination and the clues provided to piece together what the scene printed on the box will look like after a sequence of events plays out.
Wasgij Imagine is the brainteaser puzzle concept where you have to work out what would happen to the scene in the puzzle box image if the daydream came true.

Here's a few of our favourites:
Wasgij Mystery Shopper Jigsaw Puzzle – 2 x 1000 Pieces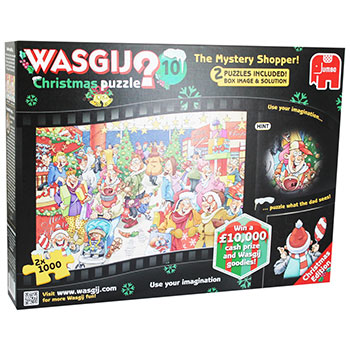 hilarious festive 1000 piece jigsaw puzzle – the image shown on the box depicts the local department store thriving with shopper's trying to pick up the best Christmas bargains in the lead up to the big day!

Wasgij Sunday Lunch Jigsaw Puzzle – 1000 Pieces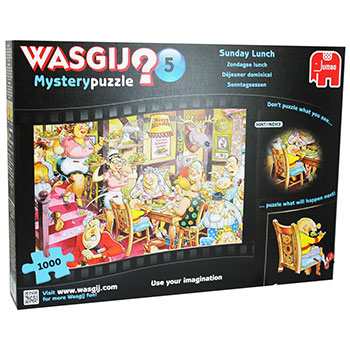 Sunday Lunch features a typical afternoon at the local restaurant where the crowd are sat waiting and the waitresses are rushed off their feet. But what could possibly spoil the food and leave the guests with a taste in their mouths that they didn't pay for?

Wasgij I See I See Jigsaw Puzzle – 150 Pieces

Try to imagine how a modern day in the world of sport will look, that is the view you have to puzzle. Use your imagination as well as your curiosity to discover the future in the Wasgij Destiny Puzzle.

Wasgij Bear Necessities Jigsaw Puzzle – 500 Pieces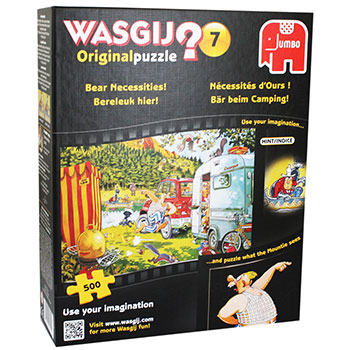 A fun and challenging twist on a traditional jigsaw, instead of replicating the image on the box, you have to imagine you're a character in the picture and piece together what they see.

Wasgij Christmas Jigsaw Puzzle – 500 Pieces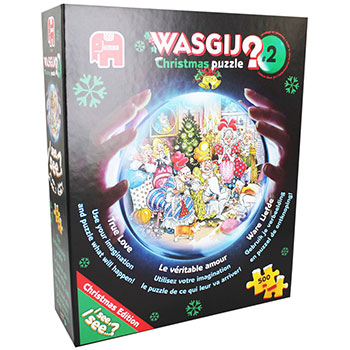 What can possibly go wrong in this romantic tale of Prince Charming looking for his Cinderella?

With over 100 jigsaws in our range, you are sure to find something for everyone here