We know that you love Disney almost as much as we do. Perhaps more? And we also know a lot of you are sooo into crafts! So what better than Disney crafts that you can do today, with minimal products to buy. You can make these as simple or complex as you like. You can go all out and make a work of art or enjoy these crafts with kids and get messy.
DIY Disney Button Canvas
All this requires is a silhouette of your favourite Disney character (princess or otherwise) and some buttons in the right colours to create their clothing/accessories. It's best to use lots of different sizes and shapes if possible. You can buy bulk button bags from The Works here (£5 for 600 assorted sizes and colours).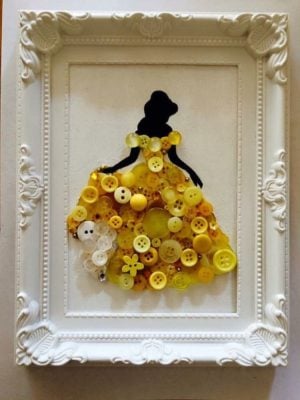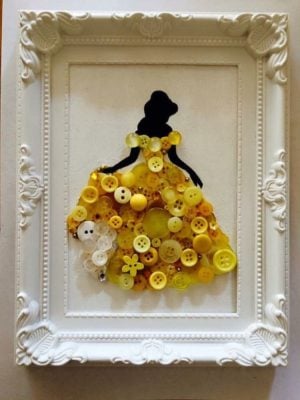 ---
DIY Princess Tower
Simply print out a rock texture (you can download it here) and then take two large cylindrical boxes, stick together. Use the lid from one of the boxes to create a 'floor' about 8 inches down from the top pf the tower. Hot glue into the middle of the tower. Cut out a window, cover with the rock paper, the decorate the inside and outside with foliage, flowers, ricrac, ribbons, sparkles… whatever you like. To make the roof, take some sparkly card, roll into a cone shape and fix together.

---
Disney Princess Footprints
This is a lovely way of getting your little ones involved – taking their little footprints and turning them into their favourite Disney characters. All you need is some paints and a good steady hand!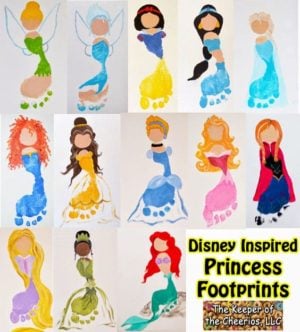 ---
Mickey Mouse String Art
Pick the size you want, print it out and tape down to a piece of wood. Use a big nail to gently hammer out where the little nails will go – try and leave a similar size gap between each. Mark it out in pencil first if necessary. Then hammer in the final nails, making sure to leave enough of the nail out to wind the string round. Now you're ready to start winding! Tie a knot around the first nail and then go around the shape outline, winding in and out of the nails (see below). Once that's done, get creative and wind string around, across, up and down until you're happy with the end product. You can frame and hang it or give it as a gift to another Disney nut!