This collection of all time favourite recipes are given the Mary Berry treatment. Mary guides you through a course of master recipes that give you all the key skills needed to be a great cook.

Eggs Benedict
Ideal for a special breakfast or informal lunch, this is a classic. For a variation or to suit vegetarians, you can serve the egg on a bed of wilted, buttered spinach.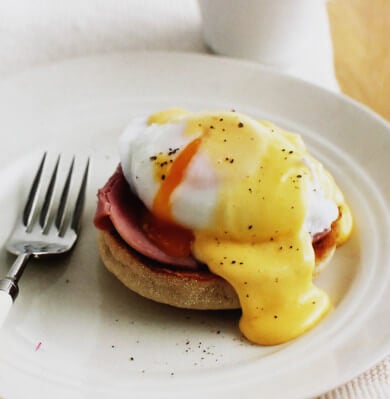 Ingredients:
Serves 4
• 2 Muffins halved
• 4 Eggs
• Butter, for spreading
• 4 slices good quality ham
For The Hollandaise Sauce:
• 2tsp lemon juice
• 2 tsp white wine vinegar
• 2 large egg yolks (room temperature)
• 125g Unsalted butter (melted)
• Salt & freshly ground black pepper
Top tip: Don't let the hollandaise get too hot while cooking or it will become too thick.

Method
First make the hollandaise sauce as shown below . Add only clear melted butter the sauce and discard any milky liquid that has collected on the bottom of the pan. Season the sauce and keep warm.
Toast the cut sides of the muffin halves under a hot grill and keep warm. Poach the eggs as shown below.
Butter the muffin halves and place on warmed plates. Lay a slice of ham on top of each muffin half, then a poached egg. Top each with a spoonful of the hollandaise sauce.
Poach the eggs to perfection
1. Crack an egg onto a small plate, then slide it into gently simmering salted water. Reduce the heat to low. Poach only 1 or 2 eggs at a time.
2. Swirl water around the edges to give neat shapes. Simmer gently for about 3 minutes until the white is opaque. Lift out with a slotted spoon and drain.
Make a rich, creamy hollandaise sauce
1. Put the lemon juice and vinegar into a medium heatproof bowl. Tip in the egg yolks and whisk with a balloon whisk until light and frothy.
2. Place the bowl over a pan containing simmering water. Whisk for 2 minutes, or until the mixture thickens enough to leave a trail when the whisk is lifted.
3. Remove from the heat and gradually pour in the melted butter, a little at a time, whisking constantly. Whisk until the sauce is thick, glossy and smooth.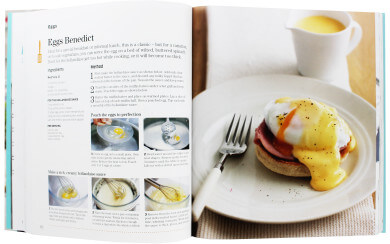 Buy the book now for only £10 http://www.theworks.co.uk/p/valentines-gifts-for-her/mary-berry-cookery-course/9780241206881
If this has inspired you, we have lots of yummy Mary Berry recipe books online here.
Still hungry? All cookery books can be found here.