Mary Berry, the nation's sweetheart and matriarch (aside from HRH The Queen, of course) has come up with this incredible show-stopper of a party menu. Everything you need to create the ultimate Mexican feast is here – the recipes for steaks, enchiladas, bean salad, guacamole and more…

The menu for this amazing Mexican Buffet Party by Mary Berry includes:

• Chargrilled Steaks with Red Vegetables
• Vegetarian Enchiladas
• Mexican Bean Salad
• Refried Beans
• Guacamole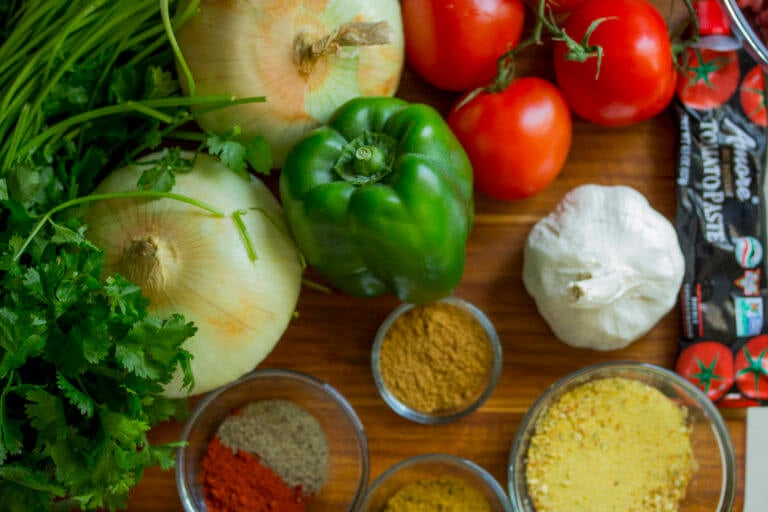 Chargrilled Steaks with Red Vegetables
Serves 4
Ingredients:
• 6 x 150 g (5 oz) thick fellet steaks
• 2 roasted red peppers in olve oil (from a jar), cut into strips, with oil reserved
• salt and pepper
• 2 red onions, cut into chunky wedges
• 2 garlic cloves, coarsely chopped
• 2 tbsp lime juice
• fresh coriander to garnish
Method
• Heat a ridged cast iron chargrill pan over a medium heat until very hot. Brush the fillet steaks with a little of the reserved oil from the peppers, and season with salt and pepper. When the pan is hot, chargrill the steaks for about 3-4 mins on each side for rare, 4-5 minutes on each side for medium or 7-8 minutes each side for well done. Remove the steaks from the pan and leave to rest.
• Turn down the heat under the pan to low, add the red onion wedges, and cook for about 5-8 minutes, turning them occasionally, until they are charred and softened. Add the red pepper strips, the garlic and lime juice, and stir-fry for 1-2 minutes until hot and sizzling. Season with salt and pepper.
• Serve the steaks whole or thickly sliced on the diagonal, with a garnish of fresh coriander and the red peppers and onions spooned alongside.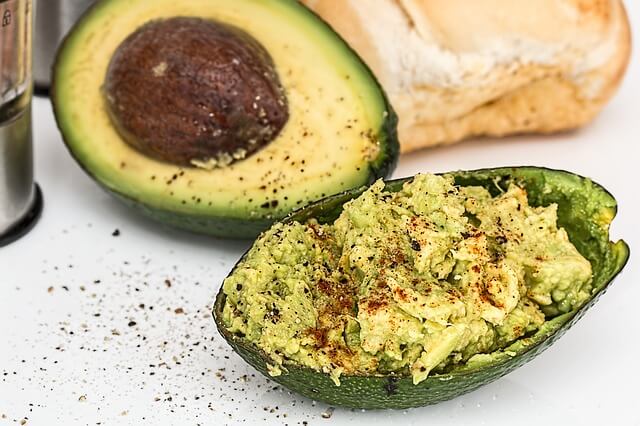 Guacamole
Roughly mash the flesh of 1 ripe avocado in a bowl with a fork. Add half a finely chopped onion, 1tbsp chopped fresh coriander, and the juice of 1 lime. Mix well, and season to taste. Chill for no more than 30 mins before serving or the avocado will discolour.
Vegetarian Enchiladas
Serves 6
Ingredients:
• 4 large tortilla wraps, about 23 cm (9″ in diameter)
• 1 x 175 g (6 oz) can red kidney beans, drained
• 60 g (2 oz) feta cheese, grated
• 60 g (2 oz) Cheddar cheese, grated
• 1 tbsp olive oil

For the Mexican tomato sauce:
• 1 tbsp olive oil
• Half small onion, finely chopped
• 1 green chilli, halved, seeded and finely chopped
• 1 garlic clove, crushed
• 1 x 400 g (14 oz) can chopped tomatoes
• Grated zest of half a lime
• salt and black pepper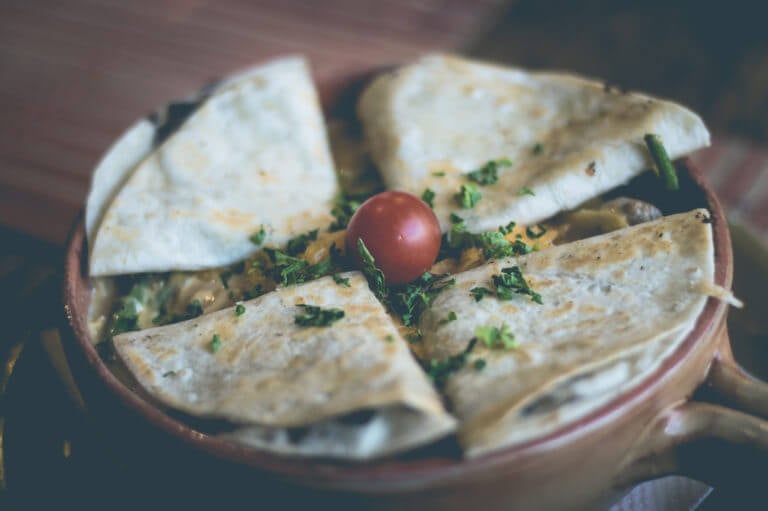 Method:
• Make the tomato sauce. Heat the oil in a pan, add the onion, chilli and garlic and fry over a high heat for a few minutes. Add the tomatoes and simmer without a lid over a low hear, stirring from time to time, for about 10 mins until the mixture is fairly thick (the consistency of chutney). If it is still a little runny, reduce it by boiling over a high heat, stirring continuously. Add the lime zest and coriander and season with salt and pepper.
• Take one tortilla and spread half of the tomato sauce it to within 2.5cm (1in) of the edge. Top with half of the red kidney beans and sprinkle over half of both the cheeses. Put another tortilla on top and press down a little with your hand so the two tortillas are sandwiched together. Make a separate tortilla sandwich (enchilada) with the remaining ingredients.
• Heat the oil in a frying pan with a wide base, so the tortillas can fit in flat. Fry each enchilada for 3-4 minutes on each side or until the tortillas are golden brown and crisp, the filling is hot and the cheese melted. Slice each enchilada into 6 wedges to serve.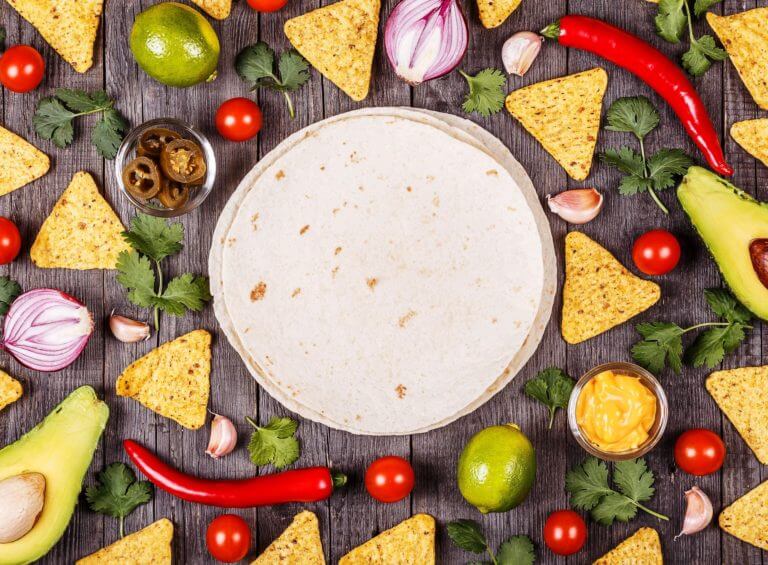 Mexican Bean Salad
Serves 6
Ingredients
• 1 x 420 g tin flageolet beans
• 2 garlic cloves
• 2.5 cm (1″) fresh ginger root, peeled
• 3 tbsp sunflower oil
• 1 large onion, finely chopped
• 1 tsp ground cumin
• 1 tsp ground coriander
• half tsp chilli powder
• 1 tsp salt
• 1 red pepper, deseeded and diced
• 2 celery sticks, diced
• 2tbsp tomato puree
• juice of 1 lemon
• 1 tsp sugar
• Few drops Tabasco
• Freshly ground pepper

To garnish:
• 2 tbsp chopped fresh mint
• 2 tbsp chopped fresh coriander

Method
Drain the beans in a colander, the dry on kitchen paper and transfer to a large bowl. Chop the garlic and ginger together very finely.
Heat the oil in a medium sized frying pan and fry the onion for about 5 minutes over a low to moderate heat. Stir in the garlic and ginger and continue cooking for a further 5 minutes or until the onion is softened and golden. Sprinkle in the cumin, coriander and chilli powder and continue to cook for 1-2 minutes, stirring.
Scrape the contents of the pan into the bowl containing the beans. Add the remaining ingredients, stir well, then taste and season carefully with pepper and extra salt if necessary. If you would prefer the salad more chilli-hot, add a few drop of the Tabasco sauce.
Spoon the salad into a serving bowl. Sprinkle thickly with the chopped mint and coriander and loosely fork the herbs into the bean mixture. Serve at room temperature.
Top Tip: You can make this ahead and it'll taste even better. Prepare the salad without the herbs, cover with clingfilm and chill for up to 2 days. Toss with the herbs before serving.

Refried Beans
Heat 1-2 tbsp sunflower oil in a frying pan. Add half an onion, finely chopped, and cook for 8 minutes, until lightly browned. Add 1 crushed garlic clove and cook for 2 minutes. Drain and rinse 1 x 400g (14oz) can red kidney beans and add them to the pan. Cook over a gently heat until warmed through, mashing the beans with a potato masher or fork and adding 1-2 tbsp water if necessary, to prevent sticking.

For more Mary Berry recipes, check out our range… Some better than half price!