How we are keeping our customers and colleagues safe
Making it #workstogether
Social Distancing in-store: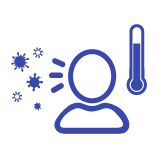 If you have any of the following symptoms,
please do not enter the store:
Continuous Cough
High Temperature
Loss of Taste or Smell
- Although the requirement for a 2 metre distance has been removed, we continue to encourage you to be mindful and respectful of each other's personal space.
- All our colleagues have received training and will be regularly updated with any changes that may be made to the government guidance over the coming months.
Hygiene in-store:
- We have installed cleaning stations at the front of all our stores providing anti-bacterial cleaner to all our customers offering them with the option to clean down their baskets before use.
- The till point, baskets and any door handles will be cleaned at regular intervals with anti-bacterial cleaner.
- At the till point we have installed screens and encourage contact free (current limit increased to £45/€50) or card payments where possible, although we will still accept cash.
- We have updated the guidance on regular handwashing/sanitising to every 2hrs or sooner if required.
Use of Face Coverings:
The use of face coverings is a personal choice and is no longer a legal requirement. The government expects and recommends that people continue to wear a face covering in crowded, enclosed spaces such as shops. Where worn correctly, this may reduce the risk of transmission to you but also to others.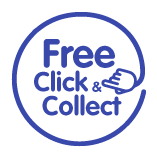 Click and Collect:
Our free Click & Collect service is available in all trading stores on all orders over £10.
Our website remains fully operational and offers a safe, contact free, home delivery service.
Support Centre:
Our Support Centre currently remains closed, except for essential business, for the time being with all of our centre colleagues working remotely from home and we will review this process periodically.