There's no better feeling in December than opening that little advent calendar door and finding a little treat behind it.
Except maybe one feeling…
The joy of seeing a loved one find that little treat behind an advent calendar that you've lovingly made them.
Unlike shop-bought calendars, a DIY advent calendar can be personalised and filled with little gifts for your kids or your partner. The only problem with them is that you need an idea and a bit of craft know-how to make them.
Well, we're here to help with that by giving you the gift of inspiration with10 of our favourite DIY advent calendar ideas. You'll need to look after the craft know-how yourself.
DIY advent calendar ideas

Idea 1 - Mini boxes advent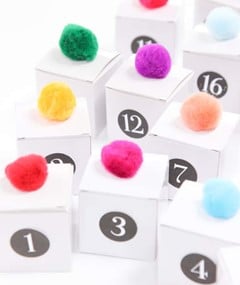 They say good things come in small packages and when it comes to this simple homemade advent calendar that's true.
This design comes with a free printable sheet of numbers, so all you've got to do, is glue it all together and stick the odd pom-pom on it.
What you'll need:
● Small white favour boxes
● Mini pom poms
● Glue
● Printable numbers (find this on the linked page)
Guide on how to make it:
https://www.fun365.orientaltrading.com/project/advent-calendar-boxes-diy

Idea 2 - Upcycled Coffee Tin Tree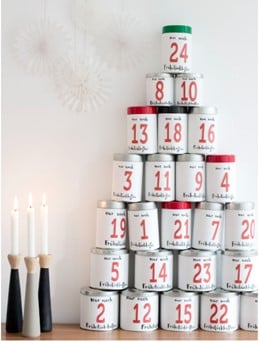 If you enjoy a morning coffee then you'll love this idea! Collect your empty coffee containers and make your own advent calendar by crafting the old tins into little gift boxes.
Stack your tins into the shape of a Christmas tree and fill each tin with your favourite coffee-themed treats such as, well, coffee! Or if you're more imaginative than us - chocolates, mints, coffee shop vouchers and maybe even a tiny espresso cup.
What you'll need:
● 24 empty Illy coffee tins
● 24 pieces of thicker white paper
● Tissue paper
● Scissors
● Glue
● Installation tape
● A cutter
● A cutting board
Guide on how to make it:
http://look-what-i-made.com/2016/11/24/illy-coffee-tin-advent-calendar/

Idea 3- Mini stockings Advent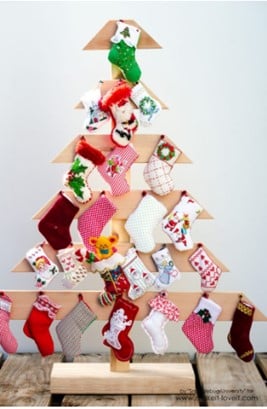 We think this is probably the cutest DIY advent calendar we ever saw… 24 tiny little Christmas stockings lined up on a wooden tree, all filled with Christmas cheer. Granted, this tutorial is for the more seasoned crafter, with woodwork and sewing involved, but the effort really does pay off because these look amazing.
What you'll need:

For the Wooden Tree:
● An 8 foot board, about 2.5 inches wide x .5 inches. 12 inches of a 2-in x 6-in board for the base
● A 29-inch tall 2-inch x 2-inch board
● Wood glue
● 1.5-inch wood screws
● A 2.5-inch screw
● Miter saw
● 24 5/8inch cut tacks
● Tape measure
● Screwdriver, or drill
● Hammer
For the Stockings:
● small scraps of fabric
● fusible fleece
● small pieces of ribbon (1/4 inch works well)
● basic sewing supplies
● template
Guide on how to make it:
https://makeit-loveit.com/mini-stocking-advent-calendar

Idea 4 -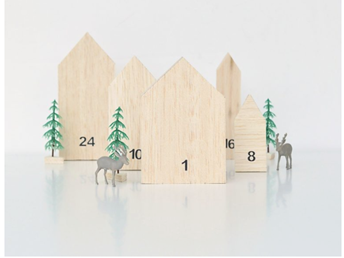 Let's face it, if there's one thing you're not short of around Christmas it's chocolate. So why not switch it up with a homemade activity advent calendar.
Instead of chocolates and sweets, this DIY advent has a daily activity surprise for the kids. You can put everything from watching a seasonal movie together or reading a picture book. The possibilities are endless with this, and it's cheap too because you're giving your time and attention instead of little gifts. The advent calendar is relatively easy to make using balsa wood and a handful of other materials, and it looks very classy set up by the fire giving a natural, Scandi Christmas vibe to the room.
What you'll need:
● balsa wood (6.4mm thick)
● wood glue
● craft knife
● ruler and pencil
● black number stickers
● round white office stickers
Guide on how to make it:
https://yourdiyfamily.com/2017/11/make-this-mini-house-wooden-advent-calendar/
Idea 5 - Punch box advent calendar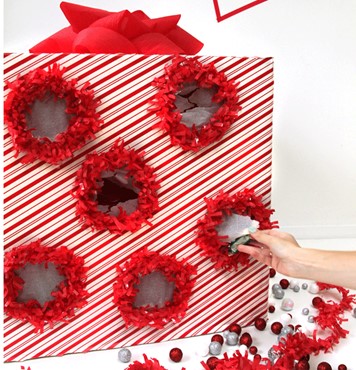 Nothing says fun like this advent calendar.
The idea is that you punch through the tissue paper to reach your daily treat - not one little cardboard door in sight with this one. Kids and adults will love this, and it's super easy to put together, and even more fun to tear apart.
What you'll need:
● Cardboard Box
● Packing Tape
● Wrapping Paper
● Spray Adhesive
● Bowl
● Pencil
● Box Cutter
● Crepe Paper Folds
● Pencil
● Ruler
● Scissors
● Stapler
● Glue Gun
● Gifts to fill, of course!
● Plastic or paper bowls
● Tissue Paper
● Double Stick Tape
● Fringe garland or other trim
Guide on how to make it:
https://studiodiy.com/diy-punch-box-advent-calendar/
Idea 6- Fabric advent calendar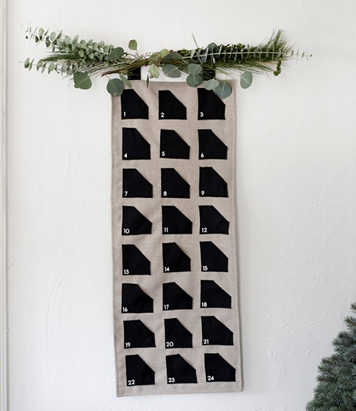 If you prefer muted colours or a stylish monochrome look in your house then this fabric DIY advent calendar will fit in perfectly. You need to be able to use a sewing machine but outside of that, you don't need much. And, it's the type of calendar you'll be able to roll out year after year because of its classic look.
The little fabric pockets can hold chocolates, sweets, or any other mini gift you fancy.
What you'll need:
● Black fabric
● Upholstery fabric
● Scissors
● Sewing machine
● Cricut machine or iron-on numbers
● Square dowel
● Greenery

Idea 7- Origami 3D advent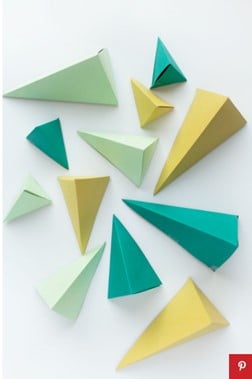 Time to become a bit more zen with this Origami advent calendar.
We love this cute little paper forest of 24 trees. There's a tree for each day leading up to Christmas day, and as it's an advent calendar, they are of course filled with sweets.
It's also surprisingly easy to make. All you'll need is coloured paper and the printed template to show you how to fold it. Simple and relaxing. Just what you need before a hectic festive period.
What you'll need:
● Coloured paper
● Treats
● A little bit of tape
● Printed template
Guide on how to make it:
https://tellloveandparty.com/2014/11/tell-diy-christmas-tree-advent-calendar.html
Idea 8- Winter Mitten Advent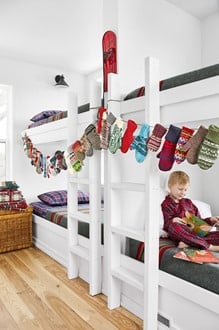 So simple, you don't even need a how-to guide for this one… Gather up any stray, forgotten mittens from around the house (if you have kids, they will be everywhere). Then string them up together and fill each mitten with an advent gift!
What you'll need:
● 24 kids mittens or gloves
● Treats
● Length of string or twine

Idea 9- Christmas tree bottles advent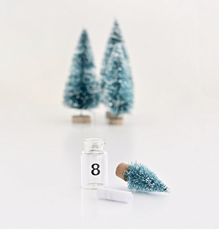 These miniature Christmas tree bottles are really special.
By writing seasonal, personal messages on a tiny scroll they are the perfect way to tell your partner, kids or friends how much they mean to you.
Who needs sweets when you can send messages to make people feel loved instead?
What you'll need:
● Mini brush trees
● 24 mini cork bottles
● Pliers
● Number stickers
Guide on how to make it:
https://yourdiyfamily.com/2018/11/diy-christmas-tree-advent-calendar/

Idea 10 - Colourful printable advent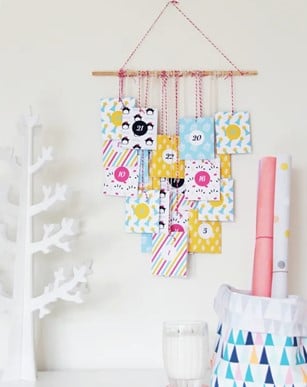 This advent is so pretty, it brightens up any blank wall space alongside your Christmas tree. It is also super simple and all really need is the template, some string and something to hang it off.
What you'll need:
● Colour Printer
● Adobe Reader (Free Download)
● A4 paper stock with thin or medium thickness
● Hole puncher
● Double-sided tape
● Scissors, zig-zag scissors (optional)
● String or twine
● X-acto knife
● Wooden dowel
● Advent gifts
Guide on how to make it:
https://asubtlerevelry.com/colorful-advent-calendar/

So there are a few brilliant advent calendar ideas if you want to make one for a loved one. And remember, even if it goes wrong, it's the thought that really counts. At least that's what we said when ours went a bit awry.