As we grow older and experience life-defining moments, we tend to take a photo or hang on to memorabilia that takes us right back to that time. Years ago, we would have photos in an album and wheel them out occasionally to cringe at that dodgy haircut or questionable outfit.
Nowadays, we don't tend to print our memories. Instead, we keep them on our phones, laptops and social media.
For those of us who still like to see the physical thing - Scrapbooking is a brilliant alternative to this. It's a creative way of preserving your most treasured memories and combining them with memorabilia from that fateful day.
Although it's not modern, scrapbooking is a traditional way to capture your memories, and a scrapbook doesn't need to have an iOS update, and it won't get lost in the Cloud either.
With that in mind, we've pulled together some easy Scrapbooking ideas to get you started. We have a collection of scrapbook layouts in the below list that are perfect for cataloguing those special moments.
Have a look through them and take inspiration from your favourites.

Beginners Scrapbooking Ideas

Floral Layout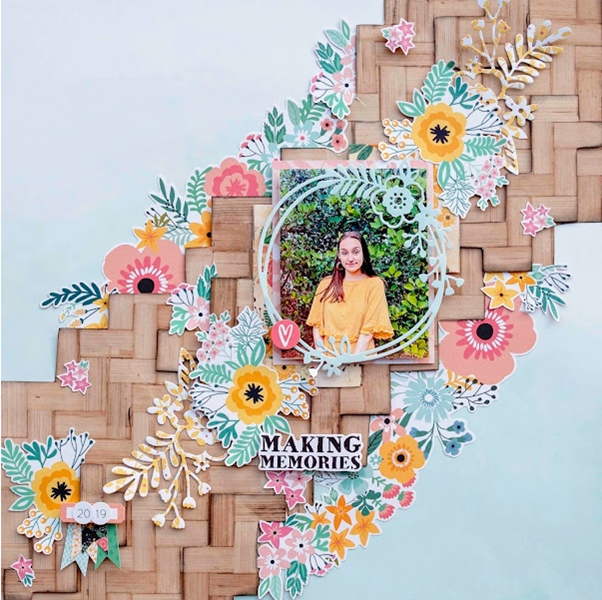 At first glance, this may look pretty intricate. But it isn't. As long as long as you can cut out shapes, you'll be fine pulling together this floral design.
To pull off this layout, you'll need to use floral wallpaper samples as the background and then cut out the different shapes and patterns from them. You'll then need to place those patterns on a plain colour background before arranging them around your photo or memory.
If you want to achieve the same look as the image shared. you'll need some wooden look paper to make it look like a trellis. Then add a cute little message you've cut out and you've completed the layout.
For the full tutorial visit: https://rilzbeecreations.blogspot.com/2019/04/making-memories-kaisercraft-paisley-days.html

Little Magazine Envelopes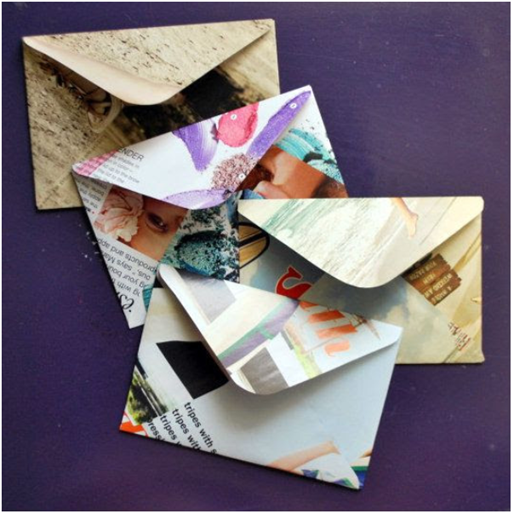 This easy Scrapbook layout is perfect for storing those little mementoes that you treasure. All you need to make it is a few old magazine pages that match a theme or some coloured card - if you want something a little plainer. Once you've got all the pages you want, you fold them into an envelope shape and then use them in your Scrapbook to store the memento.
This idea works really well for storing memories for your children like their first lock of hair, an old bit of their blanket or anything else that's meaningful.
For the full tutorial visit:
https://www.heywandererblog.com/2012/08/the-diy-magazine-envelopes.html

Travel Memories Layout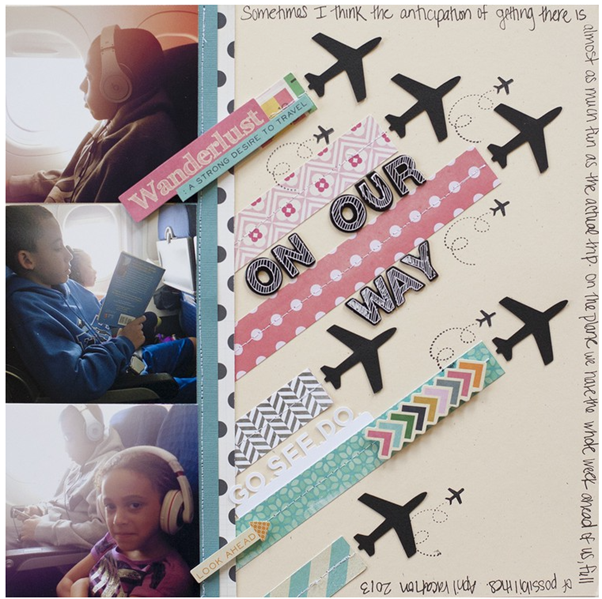 Some of your most cherished memories are from holidays. Those memories come in all sorts of shapes and sizes, ranging from incredible sunsets to dodgy hotel entertainment. So why not store them in a way that's as special as they are?
This scrapbook layout is perfect for that.
To make it, all you need is some card, your photos and patterned washi tape. You'll use the card to make the different silhouettes of things related to travel, like a plane or a palm tree. The washi tape adds a bit of personality and colour and can be used as borders and embellishments around your photos.

Bold Shapes Layout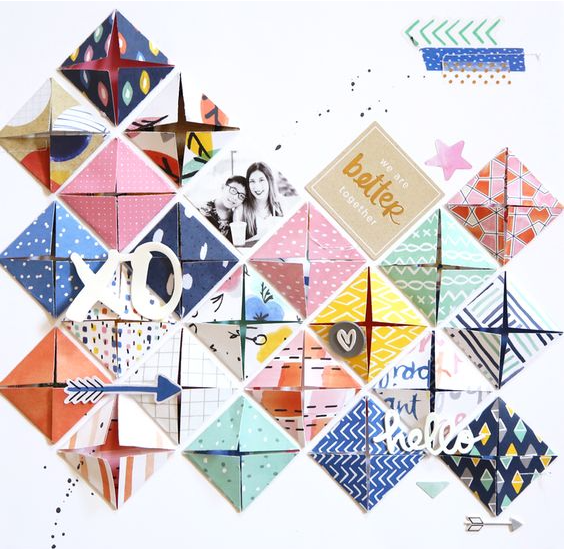 This is a really fun Scrapbook layout for beginners to try. It features just one small photo then heaps of colour and pattern using scrapbooking paper to bring things to life.
This should be an expressive and artistic page for you to create that communicates how you feel about that particular memory - happiness on a page, if you will.
Creating these little packages you can open, allows you to write words inside for others to discover as they flick through the Scrapbook. Like a patchwork quilt of memories, we love how this design ties all the elements of a treasured memory together.

Grid Layout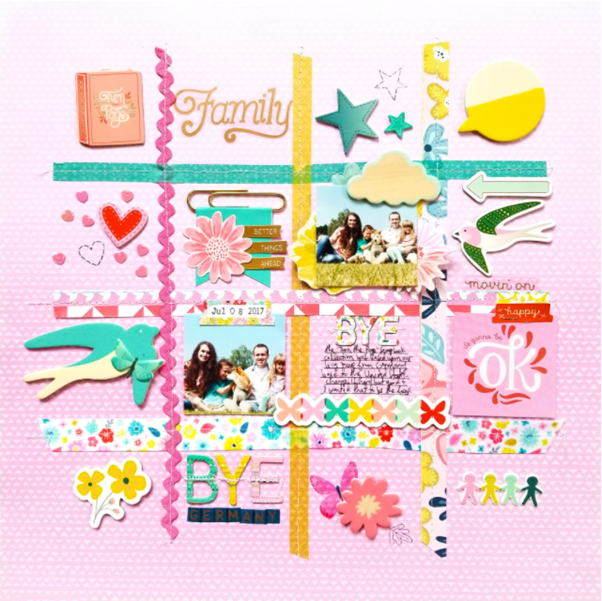 This simple layout makes good use of embellishments to make your design really come to life. It takes a page and divides it into a grid for you to decorate. These grids can be filled with mementoes, words or photos. Add a few embellishments around them, and it really starts to come to life.
The example image is from a family moving country and wanted to create a Scrapbook about the experience. They've used everything from pictures to handwritten messages to bring it to life and make it personal to them.
And you can easily do the same thing.

Ringbinder Layout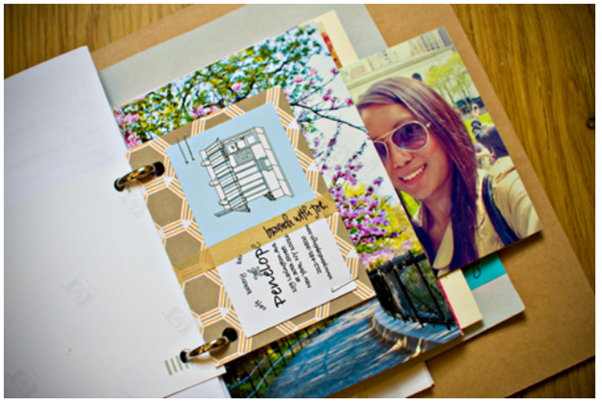 If you're not too confident when it comes to creating specific layouts, this ring binder scrapbook idea may be perfect for you.
Instead of fiddling about with scissors, glue and paper, this layout is more about layering what you have in a visually pleasing way.
To make it, all you have to do is buy a nice looking ring binder and start hole-punching what you want to store in it. The important step is to make sure that you have items of different shapes and sizes and arrange them so that you can see several different layers. Once you've finished arranging it, it should be like your memories are peeking out at you from the past.
Summer Movies Layout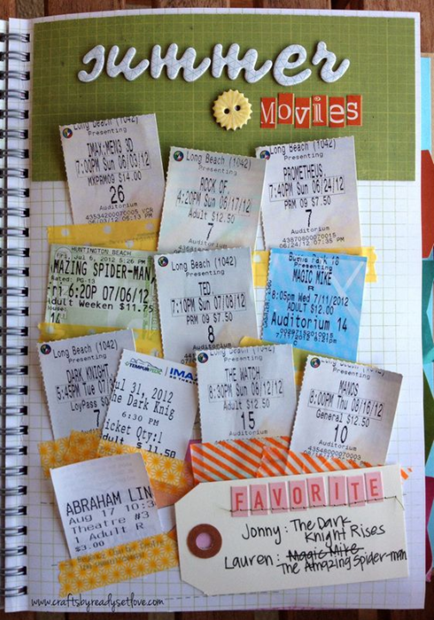 Are you a fan of Cinema? This scrapbook layout brings all your movie memories together to look back on in years to come. Use simple embellishments and washi tape to fix your cinema tickets in place, and add a simple tag to make a note of what your favourite film was. You could expand this idea and write a little journal about each film experience so you can remember what you felt and who you went along with, even what snacks you bought! This scrapbook idea for beginners just required a simple background too, either a plain background or a graph paper style.
Stitched Pocket Layout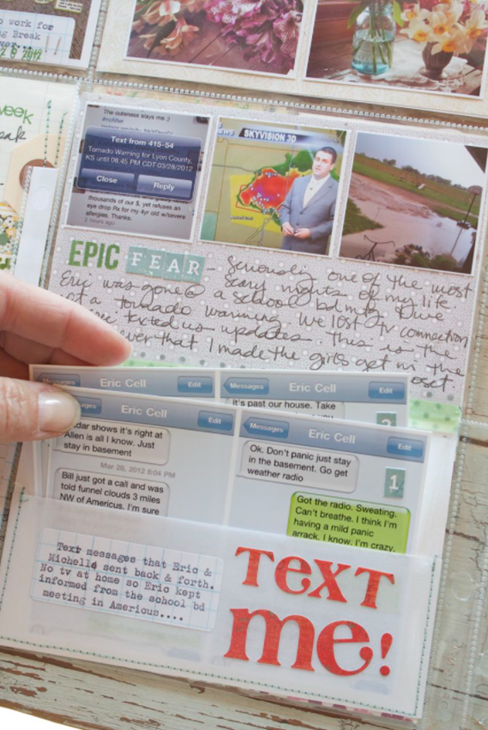 This is what makes scrapbooking so brilliant - a simple stitched pocket on a page can become a time capsule for your memories. Whether they're good, bad or, at times - cringeworthy.
This specific design has used the idea of printing texts as a memory. These could be texts shared between you and your partner when you were just getting together or texts sent to announce the arrival of your new baby. So whether it's a deeply personal memory or something a little lighter, you know exactly how you felt and reacted at the time.
Map Scrapbook Layout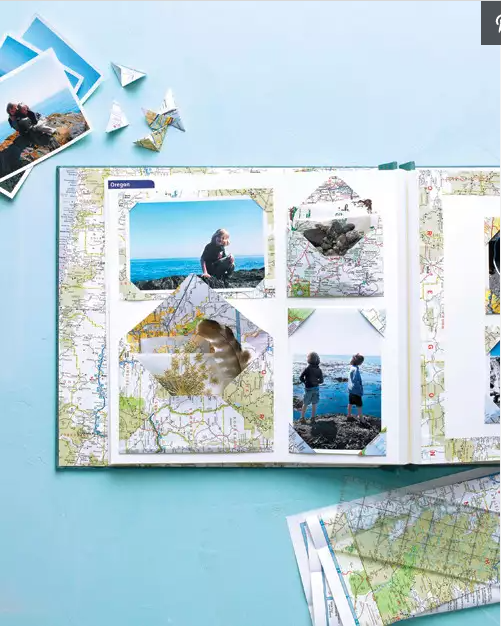 Google maps have killed the paper map. And that's a shame because they looked seriously cool. Thankfully, this Scrapbook layout still puts them to good use by making them a funky background for your memories.
This layout is perfect for documenting a road trip or mapping your family holidays or adventures over time. All you need to do is dig out those old paper maps (or buy them if you've never used one in your life) and then cut out sections of it to use as borders, embellishments or backgrounds to your memories.
Journal Layout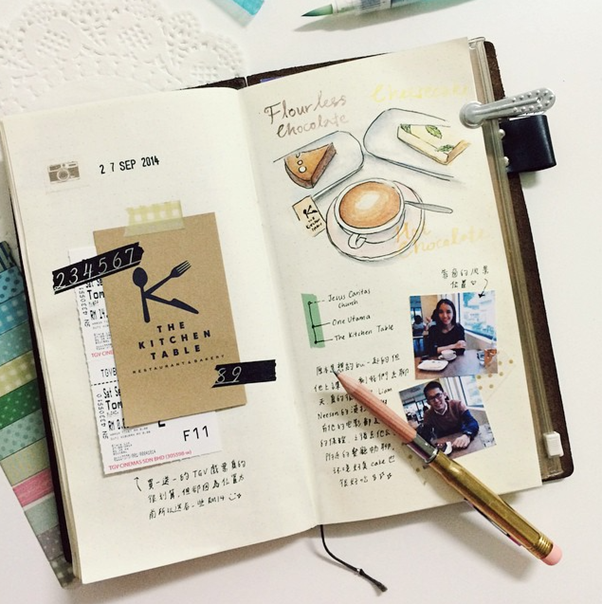 If you love to sketch or doodle, this is the Scrapbook layout for you. This layout is in a journal-style and provides space for a little watercolour or pencil sketches on the page. They add that little extra creativity for the keepsakes or photos that are fixed in place with glue or washi tape.
What's really great about this idea is that you can take your journal scrapbook out and about with you, so if you see something that inspires you, you can create a quick sketch and fill in the blanks when you're back home.
Read our post on 5 reasons to keep a journal in 2022

So there you have it, 10 scrapbooking ideas for beginners that not only look great, but are guaranteed to give you a huge dose of dopamine when you dig them out in the future.