Picture this. You've decided to start a new hobby but don't know what to pick. You rattle through the list until you finally settle on Watercolour Painting. But then comes the hard part - knowing what to actually paint!
It's easy to lose confidence if there's nobody to show you how to start a new skill. So to avoid your brand new watercolours and paintbrushes gathering dust at the back of a cupboard, we've pulled together 10 easy watercolour paintings you can do from across the internet, so you can set sail on your creative journey as the next Picasso!
Each idea has a link to the tutorial, whether written or video, so if you follow the steps, you'll have your first pieces of artwork to show friends and family in no time!
Watercolour ideas for beginners
Ice Lollies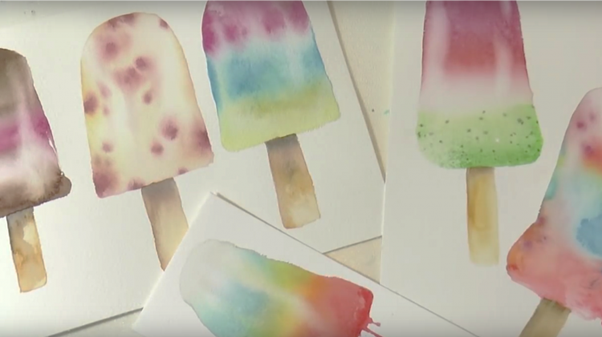 It may still be cold out there, but this ice lolly (or popsicle) watercolour painting is perfect for beginners. You get to experiment with a mix of bright colours and use a 'lifting technique' to create a white shimmer of light by lifting paint back off the paper. You can get your tastebuds flowing by imagining the flavours on your ice lolly and even create a frozen texture using salt in your painting.
Visit https://watercolorpainting.com/easy-watercolor-popsicle/ for the full tutorial.
Dreamy Moon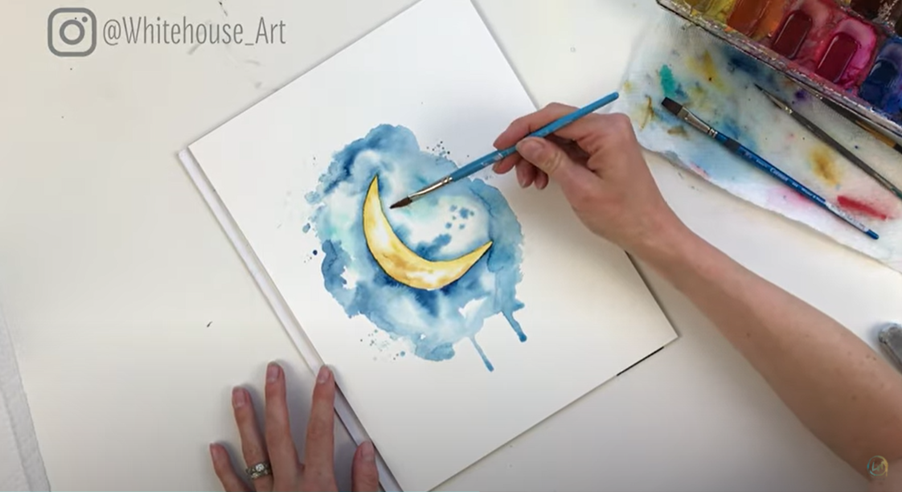 We love how this watercolour painting makes us think of dreaming and relaxation, and it's super easy to produce using basic techniques covered in a step by step video. You'll start by drawing the crescent of the moon in pencil as the focal point to your painting, and then you'll paint water onto the paper so you can carry out the 'wet on wet' watercolour technique. This technique creates a diluted effect to the colour you add and allows you to blend and move the colour around the shape.
This dreamy moon painting idea is excellent for beginners because it is an organic, natural subject matter you're depicting, which means you have creative freedom to create the moon and the clouds as you want - anything goes!
Visit https://www.youtube.com/watch?v=1Op1mu4rcS4 for the full tutorial.
Oak Tree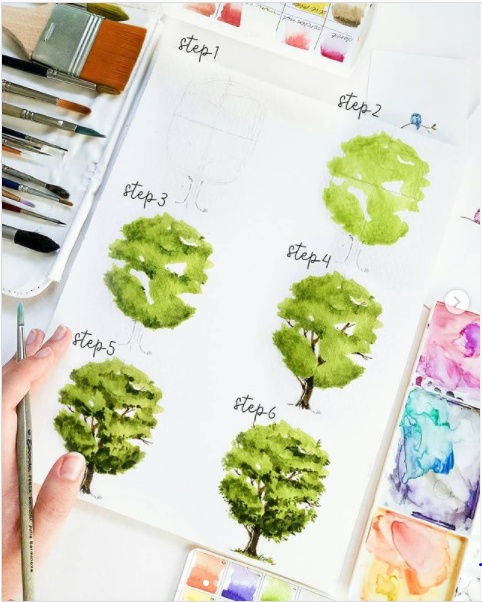 If you like the idea of painting nature, you'll need to learn how to paint trees as they're bound to crop up. This 6 step tutorial on Instagram helps beginners to produce an effective tree watercolour with beautiful shades of green and cute little dots for the leaves. Give this one a try a few times to perfect it, then why not visit a local park and put it into practice.
Visit https://www.instagram.com/p/B3SOt16oizP/ for the full tutorial.
Watermelon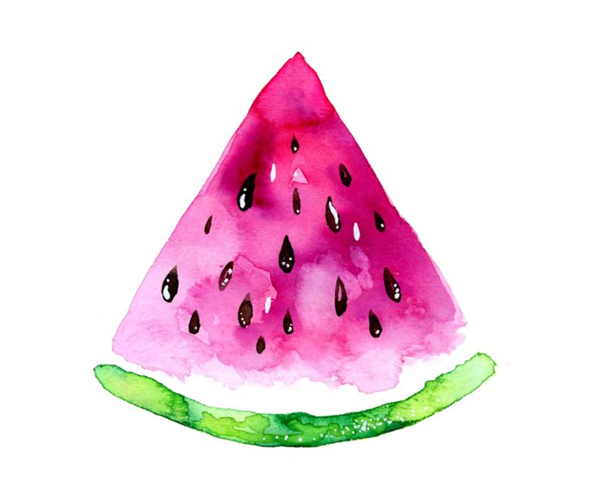 This watermelon slice idea is super easy with its simple shape and colour mixing. It's so simple there is no need to sketch it first. Just create a wet triangle to paint your pink onto, using the wet on wet technique. You'll find the paint makes its way over the shape, creating lovely unique patterns for you. By adding a few pink tones, your watermelon slice will look juicy and ready to eat.
Visit https://watercolorpainting.com/watermelon-watercolor-painting/ for the full tutorial.
Flowers
Learning to paint flowers is a great place to start for beginners. Because they are a natural subject, you don't need to produce perfect lines, which relieves a bit of pressure as you're learning. This simple watercolour painting will take you minutes to produce but leave you with a picture that looks like you've spent hours creating.
Visit https://thepostmansknock.com/how-to-create-watercolor-flowers-tutorial-plus-a-gorgeous-giveaway/ for the full tutorial.
Sunflower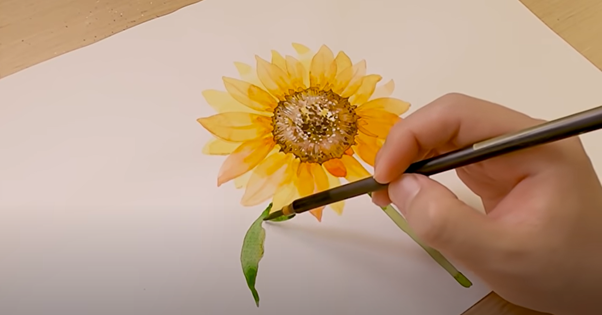 Once you've mastered flowers, you could have a go at this beautiful Sunflower! This watercolour idea for beginners will take a little more practice than some of the others to get right. With this video tutorial, you start by sketching a circle around a small pot. You'll then start to build your petal layers, with a drying stage in-between, until you see that unmistakable face of the Sunflower.
Visit https://www.youtube.com/watch?v=EgIJGPodLJA for the full tutorial.
The Pear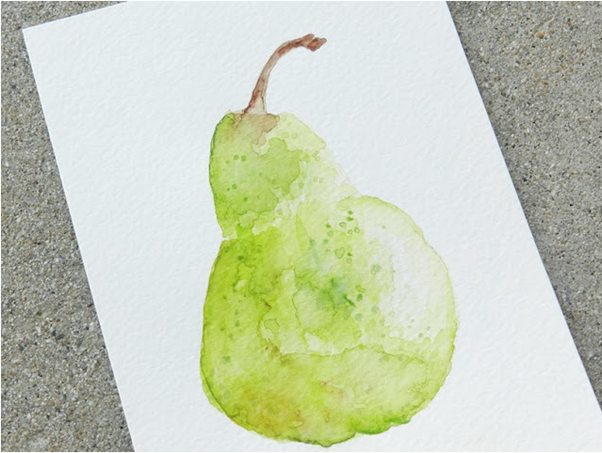 The humble fruit has inspired both beginners and experienced artists for centuries. Mainly because fruit doesn't move of its own accord, and it's sort of beautiful in its own way.
The tutorial is quite detailed, so it's a great way to learn how and why the techniques used work well for these types of subjects.
Visit https://www.eliseenghstudios.com/2014/01/how-to-watercolor-still-life.html for the full tutorial.
Simple Abstract Art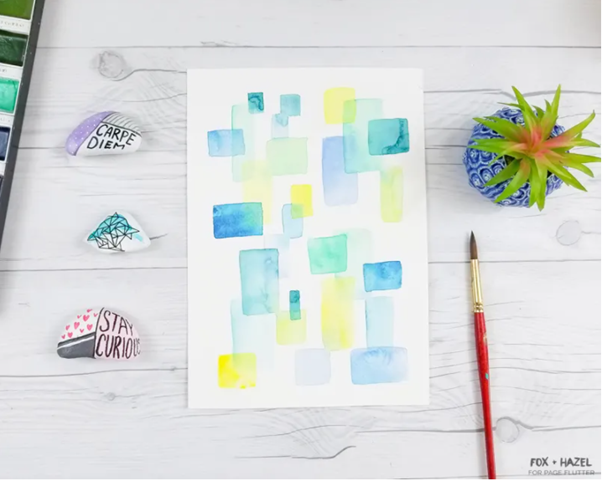 The best thing about abstract art is that it's abstract! You can produce any old shapes and colours you feel like, and no one will judge you because it's abstract. So as a beginner, this is a great exercise to stretch your creative muscle and let loose on your watercolour pad!
This idea from Page Flutter guides those new to watercolours through basic techniques such as glazing and creating shapes, so you can create a modern masterpiece you'll be proud of.
Visit https://pageflutter.com/watercolor-painting-for-beginners/ for the full tutorial.
Doughnuts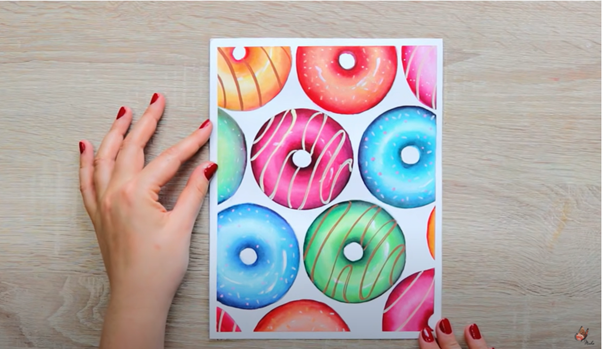 Easily the most delicious of all the watercolour ideas for beginners we've seen. These sugary, colourful little rings are easy to master and loads of fun to produce.
To create them, you use a small bowl to get your circles right, then use concentrated colours to fill in your doughnuts, not forgetting to leave some areas white to show light reflections.
Visit https://www.youtube.com/watch?v=JRue3xX61sc for the full tutorial.
Sunset and evening sky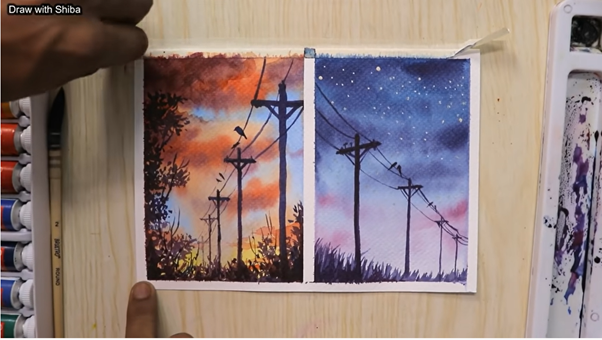 Painting a sunrise or sunset might feel intimidating, but it's not as hard as it looks. This video tutorial helps guide beginners through painting a sunset sky and an evening sky, including little details like pylons and birds to make your picture more interesting.
It's amazing how these pictures come together at the end, with what seems like just a few colours in random shapes, to a beautiful sky background. You'll impress friends and family with this one, so take a look at the video tutorial here now.