School's out for Summer! The phrase all kids love to hear and the one parents sometimes dread.
Keeping them entertained isn't always easy, but there's one thing most kids love to do, and that's craft. Crafting allows them to be creative, messy, silly, resourceful, and productive and can fill days of the holiday, meaning you can relax a little more and enjoy your summer too.
We've pulled together 30 kids' craft ideas for the summer that you can try at home that they'll love. They're low cost and low prep - perfect to fill their summer holidays and perfect for your purse!
Paper Roll Fish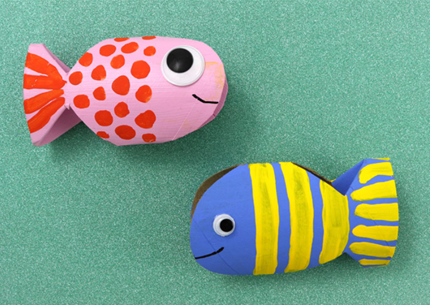 Make yourself Nemo, Dory and the gang using this really easy craft tutorial from The Craft Train that's perfect for kids of any age, even pre-schoolers. To make this craft, you'll need some old toilet roll tubes, some acrylic paint, googly eyes and embellishments to add the odd flourish. Once you've collected your toilet roll tubes, you'll need to create creases and cuts to create the recognisable fishy shape. Then the kids can run wild with acrylic paints, shiny embellishments and of course, everyone's favourite - googly eyes! Finish your fish off using a Sharpie to draw a smiley mouth, and you're done. We love this craft because you can make a whole shoal of fish with very little cash!
See the video and full written tutorial on how to make your paper roll fish here.
Textured Fluffy Painting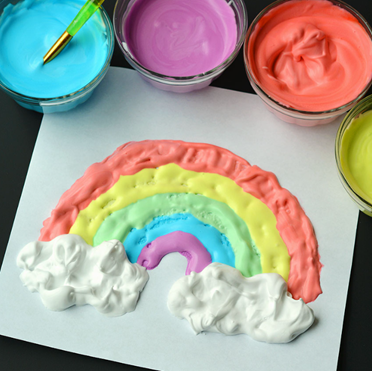 A list of craft activities for summer would not be complete without some rainbow art. This fun, colourful, textured painting idea will keep them entertained for a few hours on those long sunny days. Best of all, the craft supplies required for this activity can be found around the house - paper, PVA glue, food colouring and shaving foam. To make this craft, simply mix your glue, foam and food colouring in individual pots to create your rainbow colours, then create your fluffy rainbow on paper!
See the full tutorial and video here.
Watermelon Lip Scrub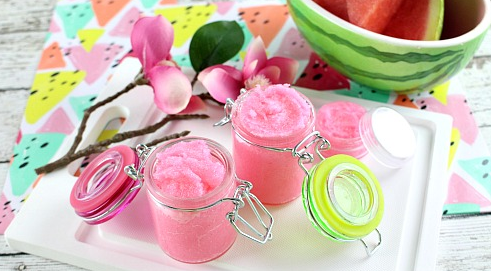 This cute little lip scrub smells lovely and is really fun and easy for kids to make too. To make this craft, you'll need coconut oil, granulated sugar, watermelon flavouring, Vitamin E oil and some pink food colouring to give your scrub its distinctive watermelon colour. Pick up some cute little pots to store the balm, and you're all done.
Check out the tutorial over on acultivatednest.com and have fun!
Vinyl Bucket Bag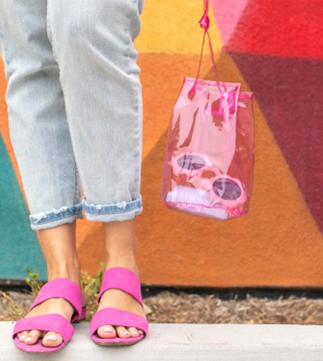 This craft idea is the most stylish on our list. Using this easy tutorial from clubcrafted.com, kids with basic needle skills can create their very own hand-sewn accessory bag that's perfect for trips out into town, the beach, or even as an everyday bag to keep their essentials in. To make their bag, they will need coloured clear vinyl (or any material they like), scissors, a craft knife, matching thread, pins and a measuring tape.
Milk Carton Bird House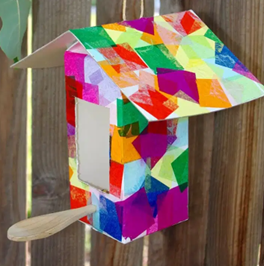 If your little ones are fans of nature and the outdoors, this craft activity for summer will get them super excited. Using an empty milk or juice carton, wooden spoon and a handful of other materials, they can easily construct this cute little bird feeder to display in the garden.
Get the full tutorial here at happinessishomemade.net.
Pineapple Planters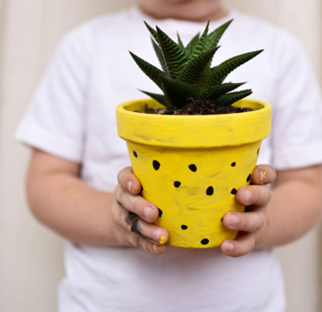 Makelifelovely.com have made this simple tutorial to make your own Pineapple planters, and we love it! Bright and colourful and potted with their favourite plants, the kids can get creative using just a couple of paint colours and a terracotta pot. Oh, and some plants of course!
Painted Treasure Rocks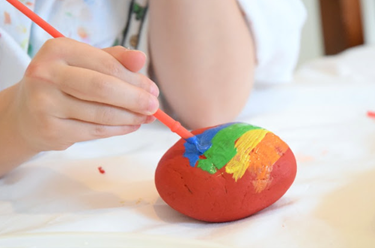 You won't need to break the bank for this craft because all you need are acrylic paints, brushes and some rocks. Set the kids on the hunt for some smooth rocks on a walk or in the garden; then once they're washed and dried, it's up to them how they decorate them using the paints. The best part is that you can then use the painted rocks in a treasure hunt game around the house and garden, or they can give them as gifts to grandparents, friends, anyone!
Take a look at the tutorial on paperandglue.com.
Paper Plate Ladybirds


Ladybirds or ladybugs, whatever you call them, the kids are going to love making this crafty creepy crawlies. Complete with wiggly eyes, these paper plate bugs can be painted any colour they like and will brighten up any bedroom or fridge door!
We love the simplicity of this tutorial from craftsbyamanda.com and can't wait to try them out!
Chalk Pops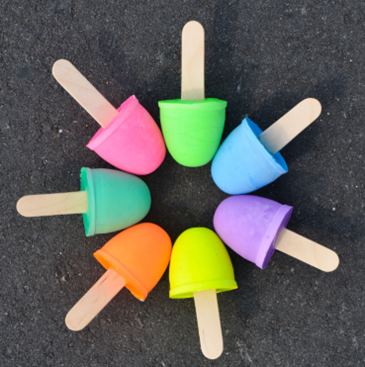 Whether it's chalking up a hopscotch game or just drawing and writing, the freedom of a huge canvas is super inviting for them. In this summer craft for kids tutorial from projectnursery.com, you can make homemade chalks that look just like lollies using plaster of paris, tempera paint and wooden sticks.
Galloping Zebra Finger Puppet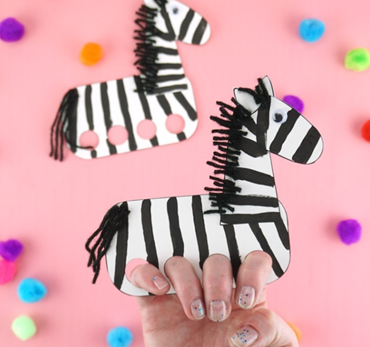 To make these fun zebra finger puppets, you'll need to download the free template first at iheartcraftythings.com, then paint on the zebra stripes, add a yarn tail and mane, then finish with a wiggly eye. Once you've cut out some finger holes, your puppet will be ready to gallop around all over the place, keeping little hands busy all day and little imaginations running as wild as the zebra!
Get the full tutorial details here.
Sandcastle Watercolour Texture Craft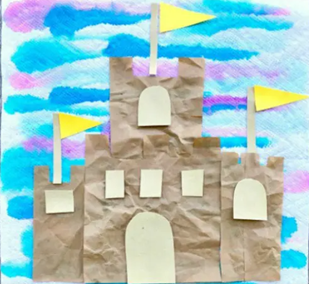 This kid's art project brings the beach to you. This craft tutorial from fantasticfunandlearning.com guides you step-by-step through the process of creating the unmistakable beach scene, using brown paper to create a 'sandcastle'. These textures help to give kids a lovely sensory experience too, as they make something that will keep them busy and that they (or you) can keep to remind them of their crafty summer.
Sea Turtle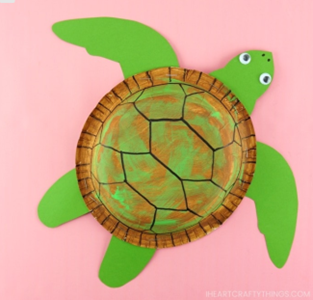 We love this sea turtle craft idea for summer. It makes us think of holidays in exotic locations and snorkelling with all the sea creatures. This is a really simple idea and perfect for pre-schoolers. To make this little guy, you'll need a paper bowl for his shell that they'll paint green and brown, some green paper cut to shape for his head, arms and legs, and some wiggly eyes.
Get the full tutorial here.
DIY Fairy House

If you have a child with an active imagination, this summer craft is going to be perfect for them. There are quite a bit of intricate crafting skills they'll need for this one, so quite a bit of adult supervision is needed. Using wooden craft sticks to clad an old tissue box, your little fairy house can be decorated with polished stones, buttons or glitter. You can make little chairs, tables and beds for inside too, making it a perfect little fairy den!
Visit livingwellmom.com and follow the full tutorial.
Homemade Bubbles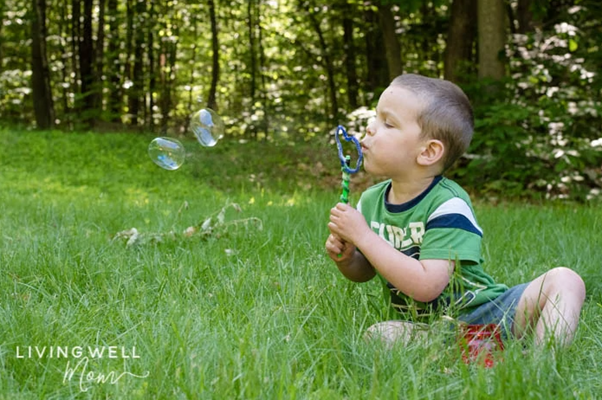 Buying bubbles for kids can become expensive, especially when they spill them all the time… So, why not make your own this summer? Start by pouring corn syrup into the water, add washing-up liquid and boom! You've got yourself some homemade bubble solution.
Get the measurements and full instructions here.
Bow-Tie Pasta Butterflies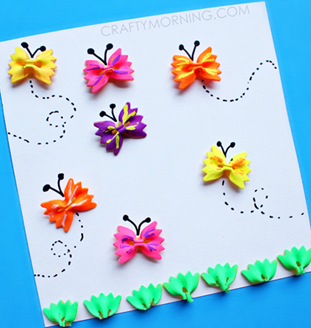 Everyone has a bag of bow-tie pasta shapes at the back of the food cupboard, and as much as we love a good bowl of pasta, we love this butterfly art just as much. Your little ones can create this pretty little garden scene by painting the pasta pieces in bright paint and glueing them to some card stock. Just add some movement lines using a sharpie, and there you have it - a beautiful group of bow-tie butterflies. This summer craft is quick and easy to do for children of any age.
Get the full tutorial here.
Salt Dough Starfish

Another seaside-themed summer craft, these salt dough starfish will allow your kids to get their hands stuck into something squidgy. Flour, salt and water is all you need to make the dough. Then it's over to those cheeky little hands to mould and shape the dough into starfish shapes. The kids can use a pencil to decorate the dough and add little extra bits of dough to embellish all the starfish. When they're all done, pop them in the oven and then, when baked and cooled, they can be painted or leave them a natural dough colour.
Find the full tutorial at thecraftingchicks.com.
Paper Plate Ice Cream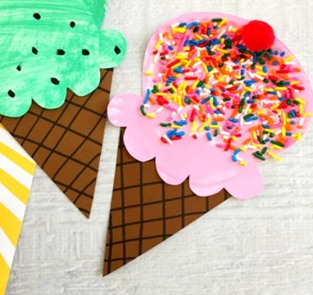 All kids love ice cream, and they will love making these crafty summer treats using paper plates, pom poms, paint and sprinkles. The ice cream scoops are cut out of the paper plates and painted an ice cream colour, then attached to a waffle cone made of card. The kids can then make their ideal ice cream by adding embellishment toppings!
Check out the full tutorial at easypeasyandfun.com.
Wooden Spoon Mermaids

These wooden spoon mermaids are a brilliant summer craft idea. Take your spoon and some coloured yarn, wiggly eyes, felt, and glitter glue to create these beautiful little mermaid characters they can play with all summer long!
Get the full tutorial from iheartcraftythings.com.

3D Hot Air Balloon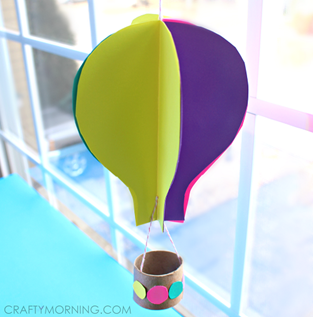 Up, up, and away! Is there a better sight than a hot air balloon cruising high over the fields on a summer's day? Well, now you and the kids can make your own with this tutorial from craftymorning.com. You'll need a toilet roll cardboard tube for the 'basket', which is decorated with coloured paper. To make the balloon, you can use more coloured paper to create the balloon shapes, and then glue them together to create a 3D effect. Twine helps you connect it all up. Then it's just up to you and the kids where you will proudly display your 3D art!
Cute Paper Rainbow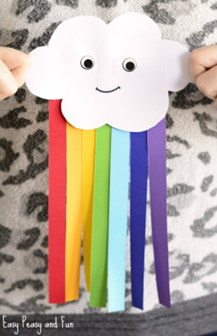 Blow the clouds away with this cute paper rainbow craft. It's a simple little craft project for kids of any age, as long as they are supervised with scissors. You'll just need coloured paper stock, glue, eyes and a sharpie to make this craft, so it's budget-friendly too.
Follow the full tutorial here.
Fish In A Bag Of Slime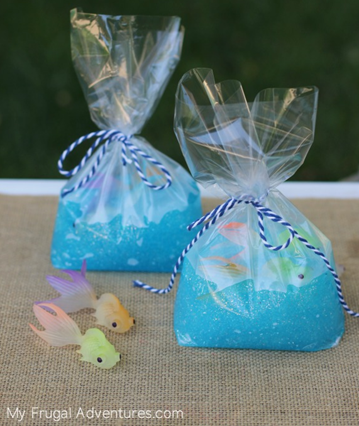 It's slime time! Homemade slime is really popular at the moment - kids love making and playing with it, because, well, kids love to be gross! This super summer tutorial for kids shows you how to make these cool fairground fish in a bag craft using treat bags, plastic fish, liquid starch, glitter glue and twine. Why not make a few and give them away as prizes during a game in the garden?
Get the full tutorial here.
Fire Breathing Dragon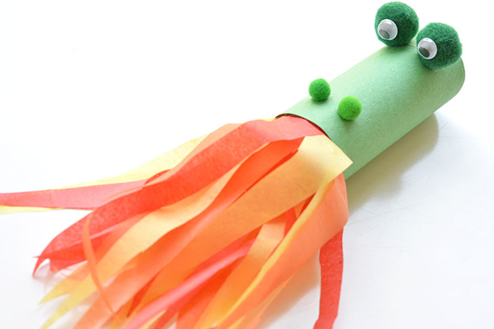 Kids love dragons. So why not give them a fire-breathing friend to play with this summer craft? To make them, cover a cardboard toilet roll in green paper, glue some wiggly eyes to green pom poms then fix them to your green tube. Now it's time to fix your 'fire' to the dragon's mouth using red, yellow and orange crepe paper and a glue stick.
Get the full tutorial here.

Cereal Box Aquarium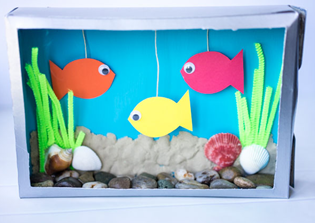 This aquarium craft project is perfect for the summer. You can include all the fish and sea creatures you like in your scene using an old cereal box, card stock, pipe cleaners, stones and shells. Kids can use their imaginations to construct their perfect little fish tank, with a parent to help with the glue gun bits!
Head to thebestideasforkids.com to get the full tutorial.
Fairy Lanterns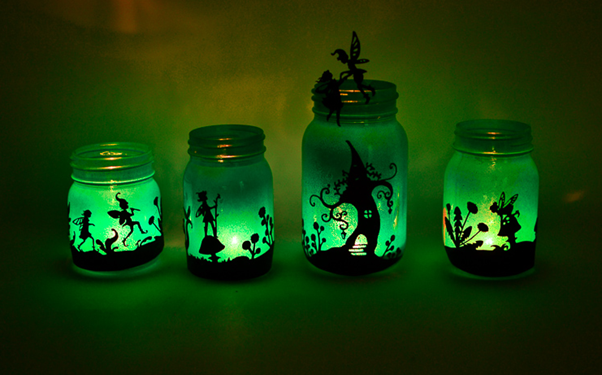 Create these enchanting fairy lanterns for those balmy summer nights by using green spray paint on the outside of a mason jar, then make the fairy silhouettes using either cutouts of black paper or painting them onto the jars. You just need some LED candles for inside to see the magical glow when the sun goes down.
Get the free printable template and tutorial here.
Tin Can Wind Chime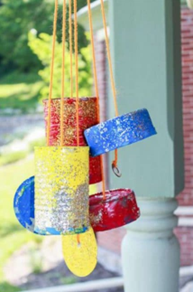 Make good use of your empty tin cans in your recycling bin by giving them to the kids to make this awesome craft. This colourful wind chime idea from handsonaswegrow.com is pretty simple to put together too. Let the kids go wild by covering the clean cans with glitter and paint, before fixing them all together with string or twine and a few metal washers.
Visit handsonaswegrow.com to learn how.
Bubble Blower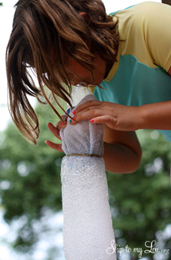 It's official - kids love bubbles! This DIY bubble blower can be put together in minutes but will give them hours of fun during the summer. Grab yourself some washing-up liquid, a washcloth, a rubber band, an empty water bottle and a small container - you'll find most or all of these things around the house, making it a free craft!
Step-by-step instructions from thirtyhandmadedays.com are here.
Handprint Ice Cream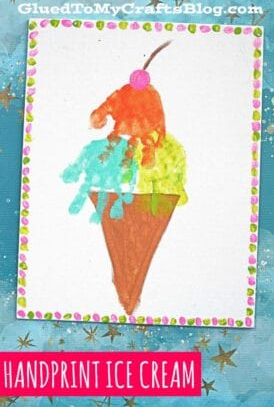 You can never have too many ice cream-based craft ideas, so here is the second one from our list of 30 Easy & Fun Summer Crafts To Make. It's a messy one, but they are always the kids' favourites, aren't they? A small child's handprint works brilliantly as a melty ice cream scoop, so get those little hands in acrylic paint and let them create this tasty masterpiece!
Get the full tutorial here.

Paper Shark Picture Frame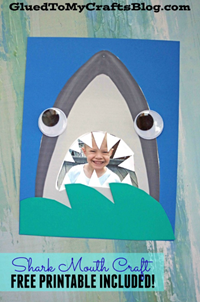 Gluedtomycraftblog.com has a brilliant free printable template for you to produce this great summer craft. You'll need a picture of your little one, paper stock, a glue stick and wiggly eyes. We love this silly shark frame so much and think it would look great alongside the cereal box aquarium.
Get the template and instructions from Gluedtomycraftblog.com.
Lolly Stick Unicorn Ice Cream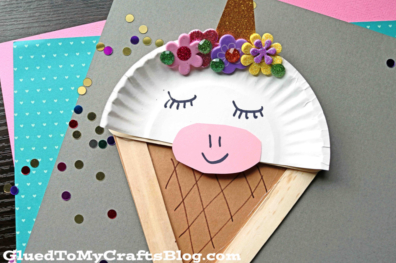 This easy summer kid's craft combines two of our favourite things - unicorns and ice cream. This craft project uses simple, affordable materials too. Gluedtomycraftblog.com takes you through each stage in their tutorial here, so grab your paper plates, card stock, and the kids(!) and get started!
Mermaid Photo Craft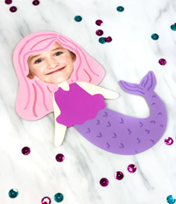 If you're not a big shark fan, then maybe this mermaid picture frame craft is more up your street. Create one of these fun mermaids complete with a cheeky headshot of your child in a few easy steps. Download the free template from simpleeverydaymom.com and use some stock and sequin embellishments to make them look pretty.
Follow the full tutorial here.

Summary
So those are some of our favourite summer crafts for kids. We've got everything on the list from super simple crafts to ones that are so good you'll be tempted to put them on display. If you're looking for more summer inspiration, we've got posts on the ultimate summer games, what to pack on a day trip with a toddler to the benefits of outdoor play.