Spring is in the air, and the Easter holidays are just around the corner! This can be an exciting time to bond with your little ones and create memories that will last a lifetime.
However, with two weeks to fill, it's no wonder why you might feel the pressure to come up with creative and engaging activities that will keep the kids entertained. After all, no one wants to deal with bored and restless children during their time off!
But don't worry because we've got you covered. In this post, we've compiled our top 7 egg-citing activities that your kids can do at home during the Easter holidays. So, let's dive in and make this Easter one to remember!
7 Easter Activities For Kids
1. Easter egg hunt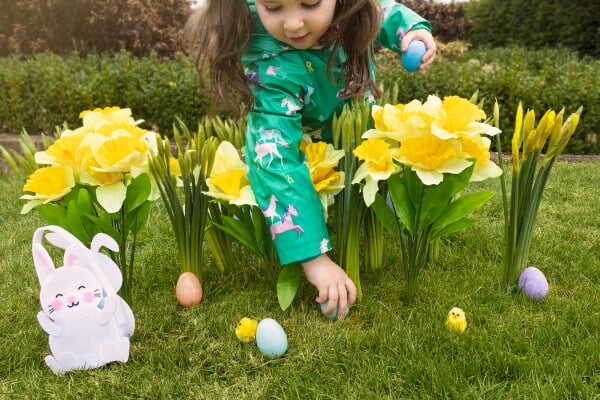 The list couldn't be complete without a classic Easter egg hunt! This is a wonderful activity for kids because it combines the excitement of a treasure hunt with the joy of finding colourful chocolate eggs! Not only is it a fun and engaging activity that kids love, but it also promotes physical activity and helps develop problem-solving and critical thinking skills as they search for the hidden eggs around your home.
Equipment & Supplies:
- Easter eggs
- Easter hunt clues
- Easter basket
How to set up an Easter egg hunt:
1. Firstly, plan your route around your home by finding 6-10 hiding spots for your eggs. This could be inside your home or in the garden.
2. Note where your eggs will be hidden to help you remember where they are.
3. Print out these Easter hunt clues or create your own from scratch.
4. Place your clues and treats around your house when the little ones are not looking.
Find the full step-by-step guide here!
2. Create Pop-Up Chick Easter Cards
We all love receiving an Easter card, but let's be honest; sending a shop-bought card every year can be a bit boring. So, this Easter, why not have a go at making your own? These pop-up chick cards are a great craft for beginners, and they'll look so nice your loved ones won't want to throw them away after Easter!
Equipment & Supplies:
- Coloured cards
- Yellow, green and orange coloured paper
- Glue
- Pen and markers
- Scissors
- Envelopes
How to create Easter Cards:
1. To prepare the chick's body features, take your coloured paper and cut out some wings, a beak, a pair of feet and some grass.
2. To make the body, cut out 9-10 white circles the size of a small cup.
3. Glue to one half of the circle and then lay a second circle on top. When half of your circles are stuck together, add your beak and then the rest of the circles.
4. Continue this process until all half-circles are stuck together.
5. Draw two small eyes on either side of the beak.
6. To assemble your card, position the paper bauble in the centre of the card and glue the bottom half of it down.
7. Glue your chick's wings to the top and bottom circle.
8. Draw on the chick's legs with your marker and stick down its feet.
9. Finally, add the paper grass to the bottom of the card.
Find the full step-by-step guide here!
3. Make Your Own Easter Calendar
Let's get the kids excited about the lead-up to Easter by making your very own Easter calendars! But we're not talking about your average chocolate-filled calendar - we're taking it up a notch by also placing a fun, written activity inside each egg. With 12 days of surprises, your kids will have something new and exciting to look forward to each day.
Equipment & Supplies:
- 12 plastic Easter eggs
- 12 written or printed activities
- Egg carton for 12 eggs
- Numbered stickers or a sharpie
- Small chocolate eggs to place inside the eggs
How to create an Easter calendar:
1. Write or print out the activities onto strips of paper and fold one inside each egg.
2. Place mini chocolate eggs inside the plastic eggs with the activities.
3. Stick your numbered stickers to the top of each egg or draw them on with a sharpie.
4. Place your eggs in the carton from day 1 to 12, and it's as simple as that!
Find the full step-by-step guide here!
4. Decorate cool whip Easter eggs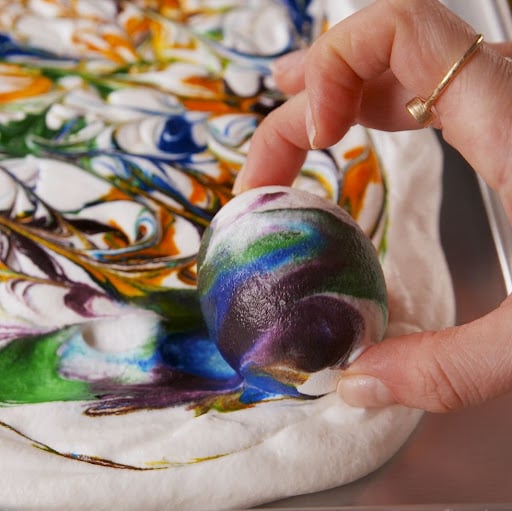 Looking for a new way to decorate Easter eggs this year? Give these cool whip eggs a try! These beautiful eggs are super simple to make, and they're totally edible! So, the kids can admire their beautiful creations and then enjoy a tasty treat afterwards.
Equipment & Supplies:
- 12 hard-boiled eggs
- White vinegar
- Whipped cream
- Food colouring
- Toothpick
- Large plate
- Rubber gloves
How to decorate cool whip Easter eggs:
1. Start by boiling 12 hard-boiled eggs.
2. Then place your eggs into a large bowl and cover them in white vinegar.
3. Soak them for two minutes before draining the vinegar and patting them dry.
4. On a plate, spread your whipped cream on an even layer about ½ inch deep.
5. Add your food colouring in by letting out single drops about an inch apart.
6. Use the toothpick to swirl the colours into a marbled effect.
7. Place on your rubber gloves to avoid staining your hands.
8. Roll your eggs in the whipped cream and allow them to sit inside the mixture for 10-15 minutes.
9. Remove them from the whipped cream and place them on a paper towel to dry.
Find the full step-by-step guide here!
5. Easy no-bake bunny biscuits
Hippity, hop into the kitchen and whip up some scrumptious Easter treats with these easy-peasy, no-bake bunny biscuits! These biscuits are so easy to make, even the littlest bunnies in the family can help. All you need is a handful of ingredients and to follow our 6 simple steps.
Equipment & Supplies:
- 250g McVitie's Thin Arrowroot Biscuits
- 150g baking milk chocolate
- 150g baking white chocolate
- ⅓ cup of colourful sprinkles
- ½ a packet of Cadbury's Clinkers
How to create no-bake bunny biscuits:
1. Start off by cutting your clinkers in half.
2. Then melt both the milk and white chocolate in separate bowls until smooth.
3. Spread a thin layer of melted milk or white chocolate onto the biscuits.
4. Now dip your biscuits (chocolate side facing down) into a bowl of sprinkles.
5. For the ears, dip one edge of the biscuits into the chocolate and then stick down the clinkers in place to form a set of ears.
6. All you need to do now is allow them to sit at room temperature for a few hours or place them in your fridge for half an hour until the chocolate is set.
Find the full step-by-step guide here!
6. Easter colouring book
If you're on the hunt for a quick and budget-friendly activity to keep the kids entertained this Easter, you can't go wrong with an Easter colouring book. With no prep required, these pages are a hoppy-go-lucky way to bring some colourful fun into your home. We've got a basketful of colouring books to choose from at The Works, and they're all less than £5 - now that's what we call egg-cellent value!
Equipment & Supplies:
- An Easter colouring book
- Colouring pencils, pens or watercolour paints

How to complete an Easter Colouring Book:
1. Select the colouring equipment to use; you can use coloured pencils, pens, or even watercolours depending on the type of paper.
2. Start colouring! Start with the first page and work your way through it. You can follow the designs in the book or use your imagination to create your own version.
3. Take your time and enjoy the process, you don't have to finish the book in one sitting, so feel free to take breaks and return to it later if needed.
7. Play Easter bingo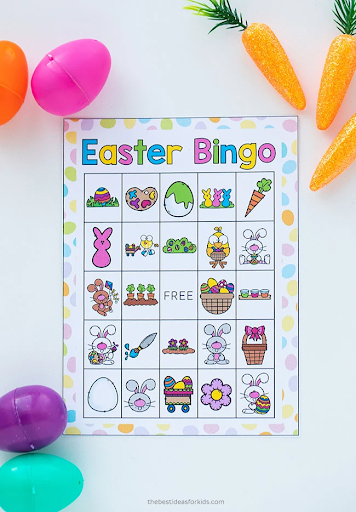 Playing Easter Bingo is a fantastic way to get kids into the Easter spirit while enjoying a classic game. The bright and cheerful Easter-themed cards and markers make it a visually appealing game that kids love. But it's not just fun, it's educational too! Easter Bingo can teach kids about the symbols and traditions associated with Easter and can be modified to suit different age groups and skill levels.

Equipment & Supplies:
- White paper or card
- Bingo markers - M&Ms, Jelly Beans, Small chocolate eggs
- Self-laminating sheets (only if you wish to reuse the cards)
How to play Easter bingo:
1. First things first, print out the calling cards and bingo cards using the template.
2. Cut out your calling cards and place them in a bowl
3. Then cut out your bingo cards - each player gets a card.
4. Call out the images from the calling cards. You can choose to show the picture or make it more fun by describing it.
5. The player with the matching card places a marker on that image.
6. The first person to get 5 in a row or a full house shouts bingo!
Find the full step-by-step guide here!
Happy Easter!
So these are our top 7 Easter activities that your kids can do all from home! There's a little bit of everything on our list, including a good old-fashioned Easter egg hunt, biscuit making and even some simple activities that need little to no preparation.
We hope you and the little ones have a lovely Easter. If you'd like to get stuck into some more Easter crafts, check out our other post, where we'll take you step-by-step through creating your own Easter Bonnets.