Everything you need for going back to school!
What better excuse is there to get yourself brand new stationery than a new school term?!
Yes, it may feel like summer only just started but let's stay positive - a new academic year brings SO many good things such as new friends, new subjects, new things to learn, and most importantly, brand new back to school essentials from The Works.
To help you start the next school term with a bang, we've created a handy list of things you'll need. So relax, we've got you covered, your back to school checklist is right here!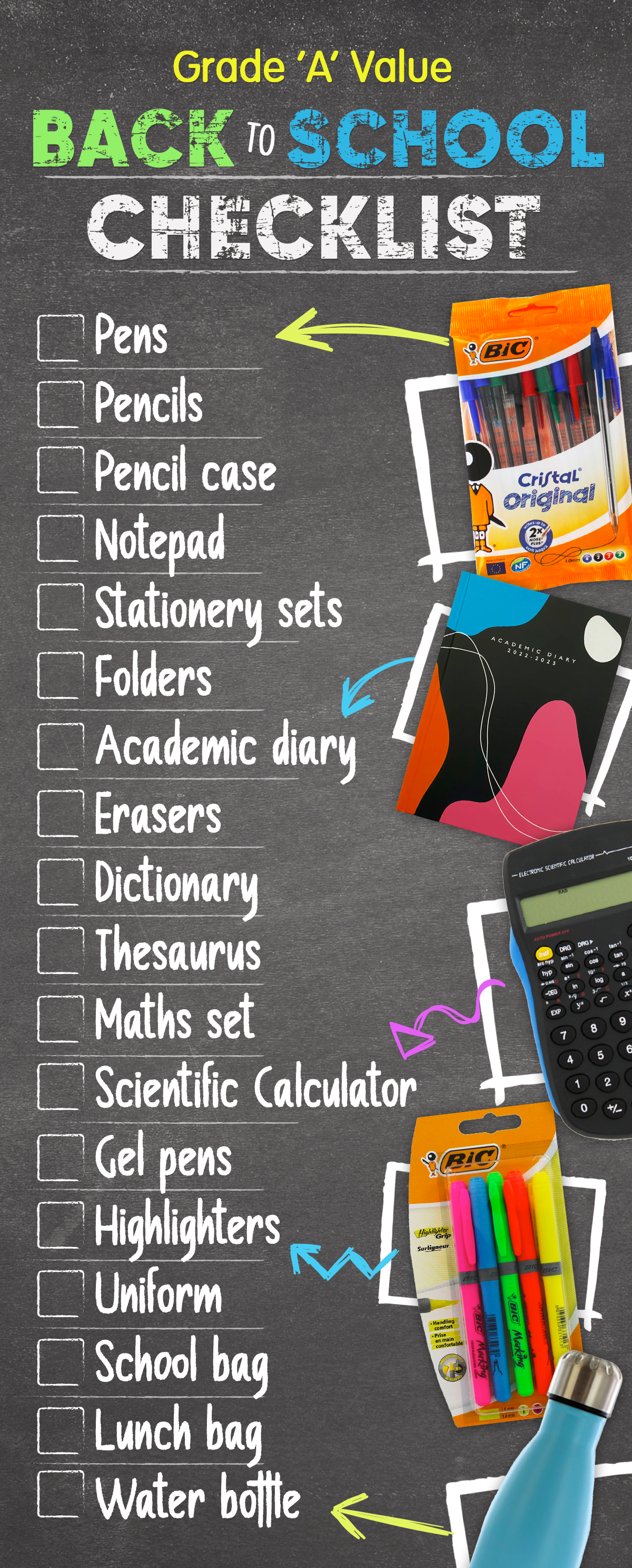 Stationery
Now below, you'll find our ultimate list of back to school stationery, as everyone knows this is the most important (and the most fun) part of your back to school planning. From diaries to pens and maths sets we've covered everything you need to stay organised and be prepared this school year.
Pens
Now we know this is an obvious one, it should go without saying that you'll be needing pens, but it wouldn't be a back to school checklist if we didn't include them now would it? Whether you need black, blue, green or red we've got plenty of sets to suit everyone's needs.
Pencils
Another obvious one is, of course, pencils, but just because they're an essential doesn't mean they have to be boring, we've got lots of fun sets available in-store and online that will get you through those first-day blues.
Pencil case
Well, you can't have new stationery without a brand new pencil case now can you? We've got so many to choose from you're bound to find something that fits your personal style!
Note Pads
Make all those essential scribblings in one of our notepads. An essential back to school
Item, you'll be a bit lost without one on your first day back!
Filofax/Folders
Keep all your new and important papers together in one place, an essential if you're starting university this September.
Academic Diary
New Year, new diary! Never miss a lesson, a project deadline or a party again. Grab yourself one of our amazing academic diaries and get organised this semester!
Rubbers/Erasers
If you're going to have pencils you're going to need rubbers! Grab yourself a new set of fun and funky rubbers from our collection.
Dictionary and Thesaurus
If there were ever 2 books a student shouldn't be without, it's a dictionary and thesaurus! Make sure your spellings and synonyms are perfect in every lesson, from A to Z.
Maths set
Not sure what exactly you'll be needing for maths his year? Just grab one of our mini maths sets with all the essentials you'll need.
Scientific calculator
Ironically, you won't need any help to work out the sum at the till for this one - you can pick up an essential scientific calculator for advanced mathematics for just £2 at The Works!
Gel pens
Let's move on to something a bit more exciting than your standard biro. We all know that no new school stationery set is complete without some brightly coloured, or maybe even glittery, gel pens- make your school work snazzy this year!
Highlighters
Highlighters, all the important stuff for exam revision and note taking with highlighter pens. Make sure to get lots of different colours and you can colour code your highlights!
Uniform
Of course, how could we even think about creating a checklist without a new uniform as number one. Maybe you're moving into secondary school and need a completely brand new uniform or maybe you just need to replace some of your tired jumpers and blazers? Whichever it is, make sure you have everything ready for your first day back. We wouldn't want you to wake up on the Monday morning and remember your school shoes had a huge hole in them, and while we're on the subject of footwear, check your socks for holes too!
And don't forget you need your PE kit to be looking fresh for the new term too - look out for grass stains and socks that have lost their elastic from last year, replace your tired kit and make sure you're primed and ready for sporting victory!
School bag
And of course, where will all this amazing new stationery go if not in your brand new school bag? We've got a huge range of branded bags available online, perfect for students of all ages!
Water bottle
Did you know that your brain is 75% water? That's why it's so important to stay hydrated when you're studying! Pick up a new refillable water bottle to keep your brain fuelled every day, all whilst helping the environment by ditching plastic bottles.
Thanks for reading and good luck on your first day back!