Being a crafter is great. You get to be super creative, you've got this incredible skill, and there are loads of mental health benefits.
But the one thing crafting isn't always, is cheap.
When you're starting out, there's all the equipment and materials you need to buy upfront. Then there are those added little flourishes on which you can find yourself spending a pretty penny or two on.
This is all well and good, but until the world starts accepting buttons as currency or you can flog your crafts for a decent sum on Etsy - it isn't going to keep the lights on.
So you'll need a few crafty ways to save money on craft supplies to keep costs down.
The good news is that we've pulled together 10 'crafty' ways to help you save money on craft supplies to make this fantastic hobby much more affordable.
So when you're good and ready - let's start saving!
9 Tips For Saving Money On Crafts
Collect free supplies from giveaway sites

Saving money on craft supplies is great, but getting supplies for free is even better!
Many people frequently offer free craft supplies on giveaway sites, such as Trash Nothing. These free items could be anything from yarn and drawing books to sewing machines.
There are plenty of local groups to search through, so you never know what you might get.
Check buy/sell/trade marketplaces
Online marketplaces will be your next best friend if you're unlucky enough not to find anything on the giveaway sites.
The most common marketplaces are Facebook Marketplace, eBay, Gumtree, Etsy, Depop and Vinted.
Marketplaces are brilliant because you can filter down exactly what you're after, and with countless amounts of people selling cheap crafts, you'll be pretty spoiled for choice.
Marketplaces are also super convenient. Most of them (except Facebook and Gumtree) offer different payment options, and the item will be posted straight to your door, or you can collect the item from their home if the seller is local.
Pop down to the local charity shops
Many charity shops stock boxes of yarn, knitting needles and other cheap craft supplies that people have donated from their collections.
Suppose you can't make it down to your local shops. In that case, some charities, including Oxfam and British Red Cross, have online stores, making getting cheap craft supplies easier!
Buy craft bundles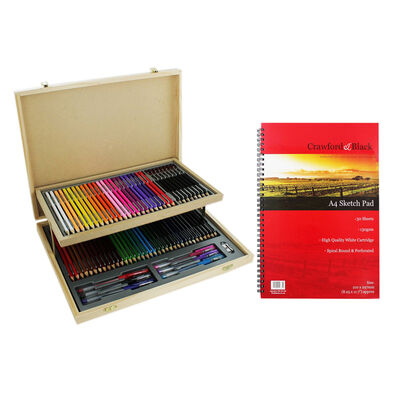 Buying individual craft supplies can be expensive and often time-consuming, especially when you're shopping around in different stores.
If you wanted a colouring set, for example. You'd be looking at £3-5 for a set of colouring pencils, £3-5 for a set of pens and £2-3 for a drawing pad.
But instead of searching for individual supplies, take a look at the cheap bundles we have available at The Works. Our Kids Drawing and Colouring Bundle comes with colouring pencils, twin-tip felt pens and an A3 drawing pad - all for just five pounds! You can't go wrong with that.
Reduce wastage

As the old saying goes, "Waste not, want not". And let's be honest, we could all do more to reduce craft wastage. The offcuts of card, the leftover glue and the excess glitter often go in the bin rather than being preserved for next time.
It's easier said than done, especially when the kids are crafting, but encouraging them to reduce wastage early on will lead to big £££ savings long term.
So when you're crafting, save any leftover supplies as you go and place them back into your craft stash when you're done. You'll thank yourselves later!
Wait until the sales arrive
Stocking up on all your craft supplies during the sales is a brilliant way to save vast amounts of money.
In most shops, saving the odd 10%, or possibly 20%, is better than nothing. But when The Works have a sale, you can be sure to get some serious bargains.
We reduce many Art & Craft products to half price, and several products have over 60% off. That's incredible!
So when our sale next comes around, it's worth stocking up on all the essentials that you'll continue to use in your day-to-day crafting, such as colouring pens, pencils, paint and notebooks. This will result in more crafts and more change in your pocket.
Reuse household items
Saving money on craft supplies sometimes requires us to get a little bit creative. There's no better way to test your creative skills than reusing household items.
Your old yoghurt pots, egg cartons, drinks bottles, tin cans, cereal boxes and sweet wrappers are great for kids' crafts. Old clothing, such as jeans and t-shirts, can also be used for sewing materials.
The possibilities of reusing household items are endless, and it helps you recycle!
Organise your supplies and see what you already have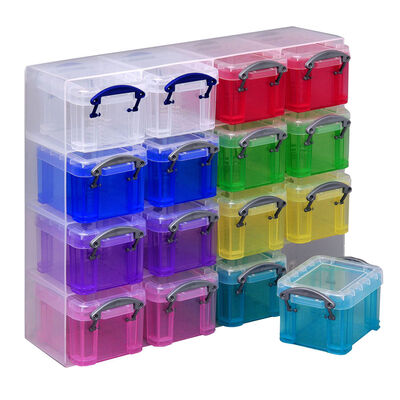 Before you start crafting, no one tells you that you need a lot of stuff.
When it goes from an interest to a hobby and then a hobby to a passion, you'll end up accumulating lots of craft tools and supplies over time.
But when your craft stash gets big enough, there's a good chance you'll start to forget about some of the supplies you have and instead buy more when starting a new project.
So before you start your next craft project, organise your supplies to quickly check what you already have.
An excellent way to do this is by investing in some craft storage and labelling it accordingly. You could have one for knitting, painting, drawing and even one for the little items that often get lost, like paperclips, rubbers and pencil sharpeners.
Research low-cost craft ideas
Some craft projects are expensive, especially when you need the right equipment or more supplies.
When you're thinking about your next big project, do some research beforehand for low-cost ideas.
If you're looking for some cheap craft ideas, we have 5 great craft projects for under £5.
Happy Crafting!
These are our 10 crafty ways to save money on craft supplies. We've got a little bit of everything in there, from collecting supplies from giveaway sites, and popping down to your local charity shops to reducing wastage.
If you're looking for more ways to save money this year, check out our other post, where we break down 8 budget half-term activities your kids will love!