Ah, Valentine's Day, that time of the year where Cupid loads up his arrows and spreads the love! Whether you're married, dating, living together or admiring someone from afar, this is definitely the time to show that special someone exactly how you feel.
And what better way to say 'I love you' than with a homemade Valentine's gift?
If you've not made Valentine's gift before, don't worry, we've compiled a list of 20 Easy DIY Valentine's gifts they'll love, so take a scroll through our ideas and start flexing those creative muscles.
To make the list easier we've split the post into:
- Easy Valentines Gifts For Her
- Easy Valentines Gifts For Him
So choose the one you think will set hearts aflutter, and get crafting!
Easy Valentine's Day Gifts For Her

Creating a Valentine's gift for the lady in your life might feel a little daunting, but that doesn't mean it has to be hard. Our list is full of simple DIY Valentine's day gifts for her you can make with just a handful of materials too, so just relax and enjoy your makes!
Love Potion Kit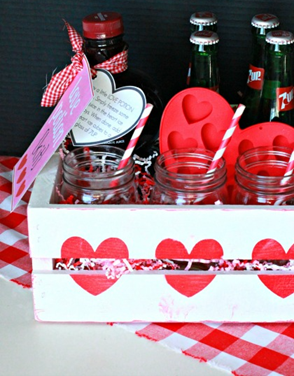 Equipment & supplies:
- 1 container of her favourite juice
- Glass bottles of her favourite fizzy drinks
- Mason jar glasses
- Striped paper straws
- A small wooden crate
- Ribbons, bows and twine
- Paint
- Paint brushes
- Heart ice cube tray

This Valentine's craft takes very little effort to produce but looks great. Filled with your partner's favourite drinks, this homemade box will be a gift your other half keeps hold of and displays proudly as a centrepiece.
Find the full tutorial at: https://www.thirtyhandmadedays.com/gift-idea-love-potion-kit/
Coffee chocolate mixers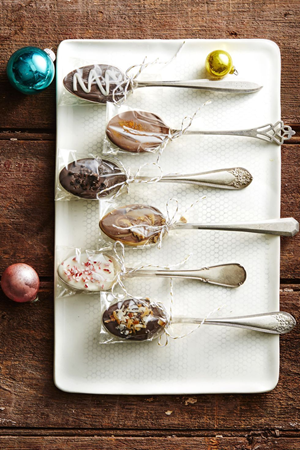 Equipment & supplies:
- Silver spoons
- Chocolate to melt
- Chopped nuts
- Dried fruit pieces

This idea is so quick and easy. All you have to do is simply melt her favourite chocolate and pour it into some silver spoons. Then sprinkle over nuts, sprinkles and other teeny tasty treats and leave it to harden. Present these spoonfuls of deliciousness with hot coffee, tea or even hot chocolate on Valentine's Day and watch her swoon at your spoons!
Origami bouquet
Equipment & supplies:
- Origami paper
- 20 gauge florist wire
- Wire cutters
- Tape
- Faux greenery
- Florist foam
- Vase

If your better half likes traditional hearts and flowers then this modern take on a Valentine's staple will hit the spot. By adding a few of these paper-heart flowers to a vase you've create a really simple and decorative gift for her.
Find the full tutorial at: https://designimprovised.com/2020/02/sweet-and-simple-origami-heart-flower-bouquet.html
Heart and map print and frame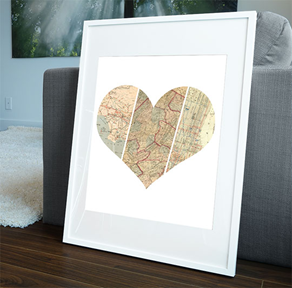 Equipment & supplies:
- Photoshop
- Hi-resolution map images
- Frame
- Printer and paper

Make sure you both remember that special place you met, or the place you said 'I do' with this DIY Heart map gift. The beauty of this gift is that you can make it in any size you want from something that will fit in a bedside table box frame to a massive centre piece for the lounge.
Find the full tutorial at: https://www.primermagazine.com/2021/learn/diy-valentines-day-gift-heart-map-print
Initials on a tree carving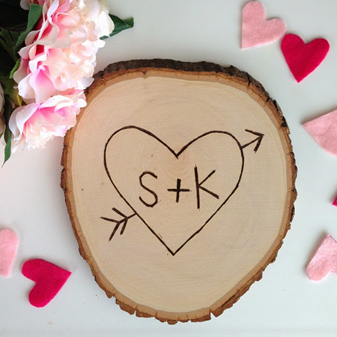 Equipment & supplies:
- Wood round
- Pyrography tool

As far as gestures of love go, carving your initials into a tree is just about as big as it gets. Now, we're not advocating going to the woods with your favourite pen knife to pour your heart out onto some bark. But we are advocating doing that on a nice store-bought wood round.
To create this craft all you have to do is burn your message into a wood round using a pyrography tool. Yep, it's that simple.
Find the full tutorial at: https://onelittlemomma.com/valentines-day-tutorial-carve-your-own/
Spa day in a box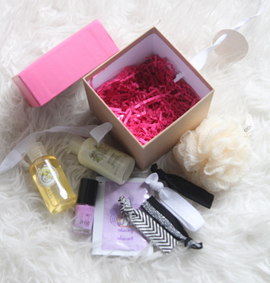 Equipment & supplies:
- Face mask sachet
- Miniature bubble bath, soap, body moisturiser
- Nail polish or lip balm
- Bath bomb
- Little chocolates
- Floating candle
- Presentation box and shred

If anyone deserves a pamper day, it's your Mrs! For this easy homemade valentines gift, you can lavish her with special self-care treats to revitalise and rejuvenate, so she can feel relaxed this Valentine Day.
Find the full tutorial at: https://www.makinghomebase.com/gift-for-her-spa-day-in-a-box/
Heartstring banner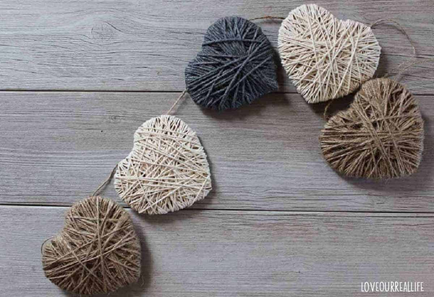 Equipment & supplies:
- Yarn in different colours
- Cardboard
- Scissors

Pull at her heartstrings with this handmade valentine's gift. Simple but effective, you only need yarn and cardboard to make this cute banner that you can hang up around the house. Or if you want to get particularly creative, why not make her breakfast in bed and serve the banner up as a tray decoration on the big day?
Find the full tutorial at: https://www.loveourreallife.com/valentines-day-string-heart-banner-2/
Sweetbox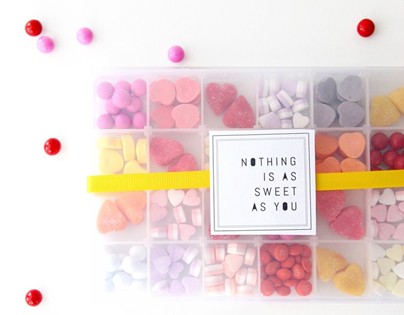 Equipment & supplies:
- Craft box
- Her favourite sweets
- Ribbon
- Paper
- Coloured pens
- PVA glue

Create a personalised sweet selection box for your crush, with just a little bit of craft thrown in! She will love that you remembered all her favourites, and when you include a cute love note or homemade Valentine's day card on the front, well, she'll be your sweetheart for sure!
Find the full tutorial at: https://www.mamamiss.com/blog/2017/02/05/diy-candy-box/
Fingerprint print vase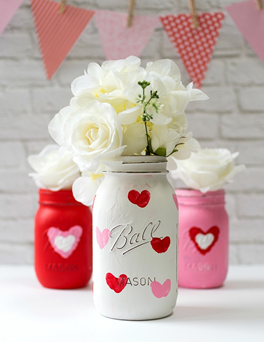 Equipment & supplies:
- Mason jar
- Acrylic paint
- Sandpaper
- Paintbrush
- Clear sealant
- Something to display in the jar when you're done

This simple DIY Valentine's day Gift is so easy that you can get the kids involved in the craft - they're the ones with the cute little fingerprints after all, right? Mason jars are very versatile and brilliant for craft projects; just add some paint and artistic flair and she'll be yours forever.
Find the full tutorial at: https://www.itallstartedwithpaint.com/valentine-kid-craft-thumbprint-heart-jars/
Succulent planters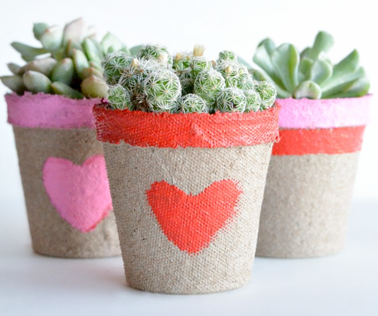 Equipment & supplies:
- Succulents
- Jiffy pots (starter pots)
- Acrylic paint
- Paintbrush

Succulents are hot right now, and if you make these little planters for your girlfriend then she'll think you are too! It couldn't be easier to make these little love pots, and hopefully, with the right care, they'll continue to bloom for years, just like you and your Valentine.
Find the full tutorial at: https://www.anightowlblog.com/succulent-valentine/
Easy Valentine's Day Gifts For Him

If you love craft and you love Valentine's Day then why not combine the two? Nothing spells out romance like a homemade gift for your man. We've done the hard work for you and created these ten ideas for simple DIY Valentines day gifts that will break hearts but not the bank.
Date Night Jar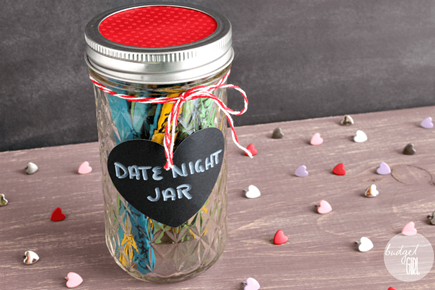 Equipment & supplies:
- Mason jar
- Wooden sticks
- Coloured pens
- Embellishments
- Sharpie pen

Never be stuck for date night ideas again with this homemade gift. Cinema dates, picnics in the park, cocktails, star gazing - write down all your favourite date ideas and let him choose at random for an impulsive day of love together.
Find the full tutorial at: http://www.tastefullyeclectic.com/date-night-jar/
Valentine Globe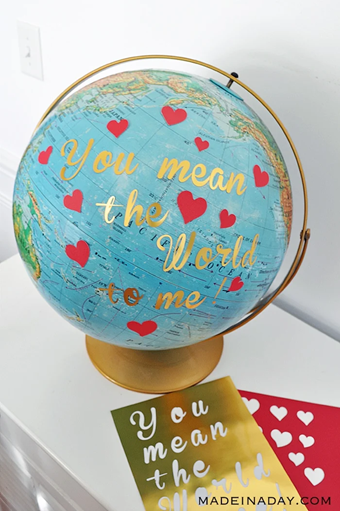 Equipment & supplies:
- Silhouette CAMEO or adhesive back letters: Upper Case, Lower Case, Hearts
- Silhouette Printable Gold Foil
- Globe

If travel is close to your love's heart, then this super-easy Valentine's craft idea could be right up their street. This DIY idea will take a maximum of ten minutes to produce but will mean the world to him.
Find the full tutorial at: https://madeinaday.com/diy-globe-valentine/
Indoor Picnic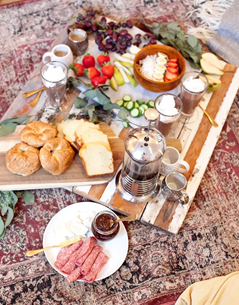 Equipment & supplies:
- Blankets
- Cushions
- Picnic finger food
- Fresh coffee and tea
- A bottle of fizz
- Wooden presentation board

An indoor picnic is a perfect Valentine's gift for him. To create your gastronomic gift all you need to do is pull together all his favourite treats, throw them into a basket and create a cosy environment with some cushions and throws.
Find the full tutorial at: https://freshmommyblog.com/indoor-picnic-brunch-mocha-chia-pudding/
Song lyric cupcake toppers
Equipment & supplies:
- Cupcakes
- Washi tape
- Card
- Scissors
- Lollipop sticks or long toothpicks

Hit your other half right in the feels with this romantic homemade cupcake topper featuring song lyrics from your favourite song. It's super easy to make this gift, you just need to buy some cupcakes to fix the toppers to. Or if you're a regular Mary Berry, you can go the extra mile and bake them yourself.
Find the full tutorial at: https://sugarandcloth.com/diy-pop-culture-song-lyric-cupcake-toppers/
Personalised bedroom decorations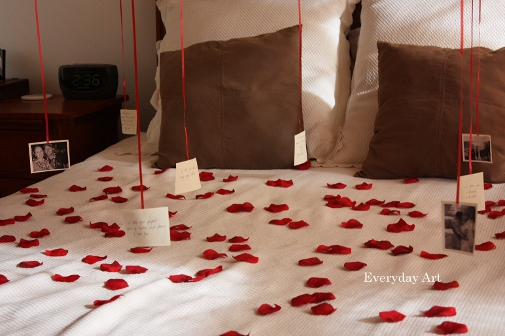 Equipment & supplies:
- Pictures of you and your man
- Helium filled balloons
- Ribbon
- Rose petals
- A Pen

Create a romantic love nest in your bedroom this Valentine's Day with just a handful of craft supplies and some rose petals. Recreate little moments in time by printing your favourite couples photos and writing cute messages on the back of each one, then suspend them over the bed using helium balloons and ribbon.
Find the full tutorial at: http://www.our-everyday-art.com/2012/01/thoughtful-valentines-gift-for-him.html
Sticks and Stones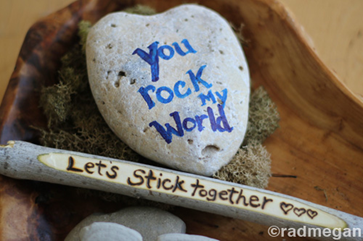 Equipment & supplies:
- Take a walk in the woods or local park and pick up your sticks and stones
- Pyrography tool
- Sanding tool
- Paint and paintbrushes or coloured pens

Have you got a rugged, outdoorsy guy on your hands? This simple and easy to make Valentine's gift for him will show him how much he means to you, with messages from the heart presented on natural stone and wood. These are long-lasting crafts that he can hang on to forever.
Find the full tutorial at: http://radmegan.com/2012/02/sticks-stones-a-frugal-outdoorsy-valentines-day-craft.html
Snacks-filled slippers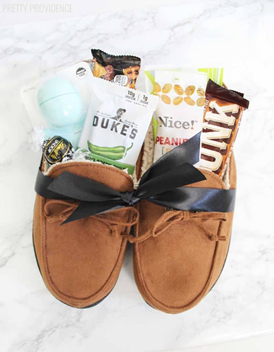 Equipment & supplies:
- Snacks
- Slippers
- Paper and pen
- Ribbon and a bow

Make sure your other half is cosy this Valentine's with a brand new pair of slippers, all tied up with his favourite sweet treats! Nuts, chocolate, popcorn, sweets, and maybe even a little love note if you're feeling super romantic, to give him a homemade Valentine's gift to remember.
Find the full tutorial at: https://prettyprovidence.com/slippers-gift-idea-men/
Gamers Hamper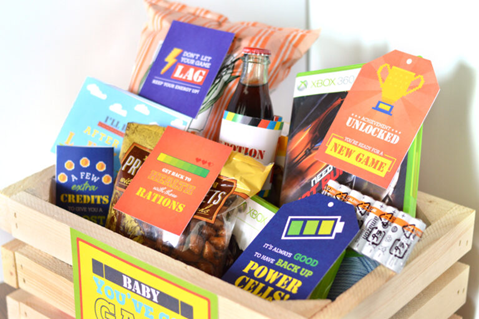 Equipment & supplies
- Wooden crate
- Snacks
- Batteries
- A new game
- Drinks
- Card

If you're one of the gazillions of women who lose their partners to gaming, then this is a DIY Valentine's gift he will definitely want. Give him the gift of sustenance with this Gamers Hamper.
To make these homemade Valentine's gift all you have to do is load a wooden crate up with individually labelled treats so he's got enough energy to make it through the night. Who knows, he might even pop downstairs to show his appreciation after a few hours - it is Valentine's after all.
Find the full tutorial at: https://www.thedatingdivas.com/gamer-gift-basket/
Rope coasters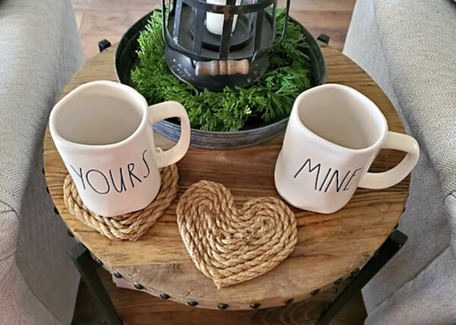 Equipment & supplies:
- Rope
- Felt sheets
- Scissors
- Hot glue and glue gun
- Pen or marker
- Card

What's cuter to go with his daily brew than a heart-shaped coaster? With this simple DIY Valentine's project, your tea-loving man will be reminded of you every time he reaches for that mug.
Find the full tutorial at: https://www.diybeautify.com/2020/01/farmhouse-valentines-day-heart-shaped-coasters.html
Flour Hearts in the Grass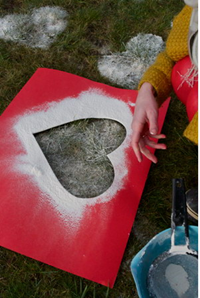 Equipment & supplies
- Flour
- Large A3 paper
- Scissors

Lead him up the garden path with this romantic decoration on Valentine's day. Simply cut out your heart shape and sprinkle flour on the ground using your cutout template, then create a path of hearts right up to the door, where you can be waiting for him as his prize!
Have fun making a romantic gift for your valentine this year! Remember to check out our other blogs for more craft ideas!