As the end of term fast approaches, parents and pupils will be looking out for gifts to show their teachers and teaching assistants just how much they appreciate them.
Most kids will opt for a 'thank you' mug or maybe a box of chocolates. But the ones that really care will make a homemade gift.
To give some inspiration for those select few, we've pulled together a list of the best DIY thank you teacher gifts.
So break out the craft set for the little ones and set aside an afternoon of serious crafting.
The Best Homemade Teach Gifts

1. Pebble Magnets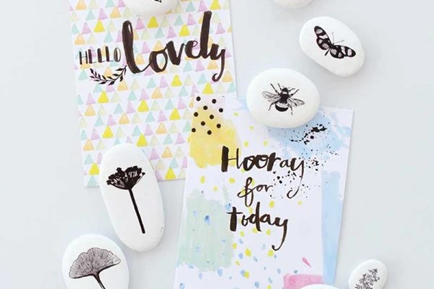 These amazing pebble magnets are a super-simple craft to make for your teacher. All you need to do is grab some nice smooth little pebbles, magnets, glue, paint and paintbrushes. Once you've got them, create a personalised message or design on a piece of paper then decorate each of the pebbles. Simple!

2. Umbrella Poem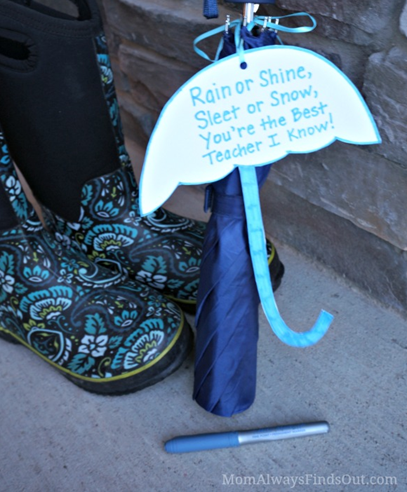 If you've got a kid who's a little on the shy side, this umbrella tag is the perfect way to say thank you. Instead of going up and handing the message directly to them, they can just leave it by their brolly or coat. It's really easy to make too. You just need card stock, a pen and scissors and a little piece of ribbon to fix it to a brolly.
3. Painted DIY Plant Pot

We love this adorable little DIY terracotta plant pot and it's super easy to make. You can pick up these pots at a garden centre or supermarket and choose a flower you think your teacher will love. Use paints and paint brushes to decorate the pot including the slogan "thank you for helping me grow". Then once it's dried, it is all ready to be handed across to your teacher.
4. Scrabble Letter Messages
This homemade teacher gift is perfect for English language teachers and teaching assistants. Teachers will love having their names sit on their desks in this unique way. To make this all you need to do is simply spell out your teacher's name using these wooden letters and stick them down in place with some glue.
5. Pencil Vase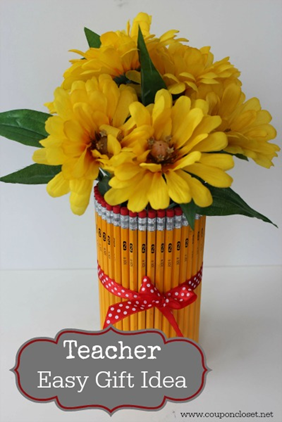 Pencils and flowers – you're basically combining some of the most popular teacher gifts into one craft. To make this craft you'll only need a vase and a few supplies. Tak a regular cylindrical vase the size of a pencil, glue some pencils around them and finish it off with some ribbon tied into a bow. Then pop some flowers in and you're ready to hand it over to your favourite teacher.
6. Mason Jar Treats
Keep your teacher sweet for the next term with this DIY gift that's full of tasty treats! Mason jars are great for homemade crafts - simply fill your jar with your teacher's favourites and decorate your jar with a 'thanks for helping me shine' message using card, pens and a little bow. Your teacher will think of you with every treat they enjoy!
7. Teacher Survival Kit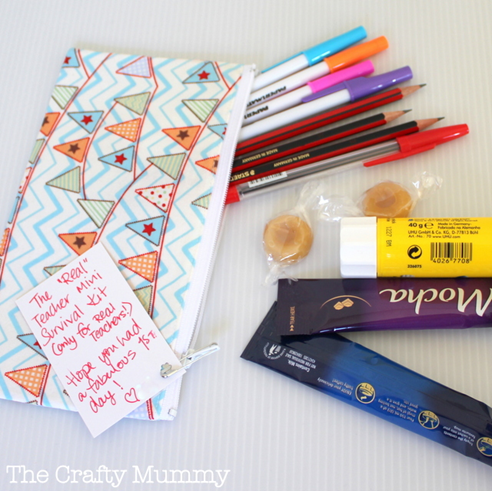 It might be stating the obvious, but every teacher needs stationery and sugar. So why not make their life a little easier next year by making them a survival kit which contains both. This DIY teacher gift is all about choosing the right things to pop inside a little pencil case for the teacher. Whether it's coffee sachets, a facemask, body spray or some lovely brand new pens to mark next year's work, your teacher will love this school-themed gift. Make a little tag for your teacher to say thank you and hey presto, a teacher survival kit for next term.

8. Box Frame Classroom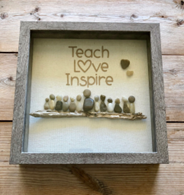 Create a work of art for your teacher's wall at home using a box frame and pebbles from the garden. The kids will have fun searching for just the right stones, then you just need to line the frame with some muslin and hot glue it all together!
9. Crayon Apple Box Frame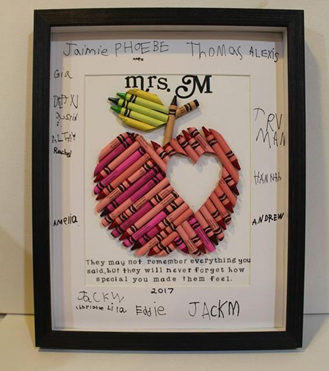 Show your teacher you really care with a hand-crafted box frame gift from the whole class! Using colourful crayons and a glue gun, create a shape for your box frame and some thoughtful words of thanks like this one. Get everyone in the class to sign the frame inside then seal it up and present it to your teacher with pride on the last day of term. There won't be a dry eye in the classroom!
10. Thank You Hanging Sign
This DIY teacher gift is a perfect 'thank you' to someone at school who's helped you all year. You'll need a small piece of plywood and then choose some lovely colourful paints to decorate it. If you don't have a piece of a jigsaw you can use, just paint it on the plywood and add your teacher's name for a special personalised gift they'll treasure.
11. Hand Lotion Tag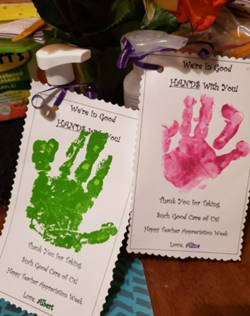 If your kids enjoy getting messy when they do crafts, this DIY teacher gift is perfect! You'll need card stock, scissors, pens and paints and some little hands for the handprints. Once you've got all that together, write your message out and attach them to a nice tube of hand cream or hand sanitiser that teacher can use when in the classroom.
12. Pencil Bouquet
Present your teacher with a gift that combines their two favourite things - flowers and stationery! We love this clever pencil bouquet made with standard pencils and handmade flower petals, all placed neatly in a colourful pot. This thank you teacher craft gift won't take long to put together but will leave a lasting smile on your teacher's face.

13. Candle Wraps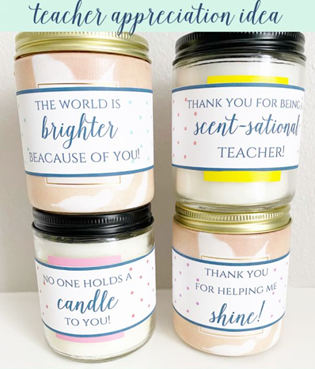 Make sure your teacher relaxes over the summer break with this homemade gift. This one's perfect if you've not got a lot of time or you are a novice crafter. All you need to do is head to Leah with Love to download their free printable label and fix it onto a regular glass candle pot.
14. Teacher Wreath

Create this circular wreath made with cut-down wooden rulers for a classroom-themed DIY teacher gift. Hold it all together with glue and add your embellishments including a cute mini bunting with your teacher's name and some bright pom poms or paper flowers. Finish with a wide ribbon to hang it in place and step back to admire your masterpiece.
15. Sharpie Gift Set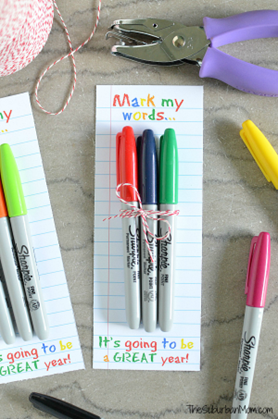 Name me a teacher who doesn't love a Sharpie? With all that marking to do, it's one of their life essentials. So we're betting that your teacher will love a sharpie with a little hand-crafted message around it. To make this gift all you need is lined exercise book paper, twine, a pen, and 3 new Sharpies!
16. Chalk Board Coaster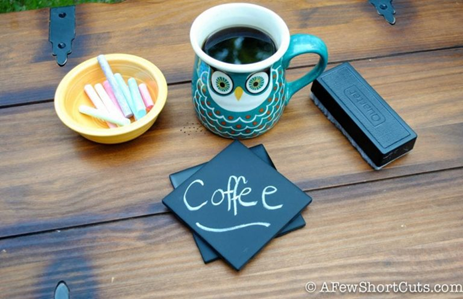 The best thing about this gift is that your teacher gets to craft a little too. You will need some plain white tiles from a DIY store, chalkboard spray paint and some chalk. Once the spray paint has dried, you can add any messages you like on it with the chalk. Then if they feel like it, they can rub it off and write their own.
17. DIY Pencil Holder
Make sure your teacher has a tidy desk with these hand-crafted pencil holders. To make this craft you'll need to take a toilet paper tube and wrap it in different coloured yarns. Then you can finish it off with different embellishments to create whatever colourful pattern you like.

18. Teacher Appreciation Colouring Picture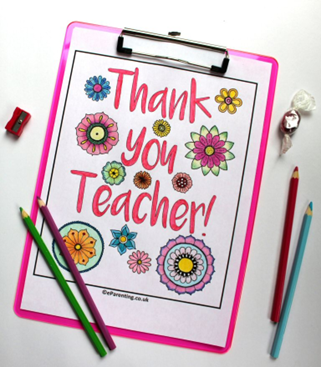 Get the colouring pencils sharpened for this thank you teacher gift. To make this gift, all you need to do is print this free template and then leave the little one to colour it in however they see fit. Then once they've finished, pin it to a clipboard or frame it and present it to your favourite teacher.
19. Knitted Pencil Scarf
Ok, this may not be a gift you can make in ten minutes, but if you've got the luxury of time and like to work with wool to knit and crochet, why not try making this adorable pencil scarf? You'll just need these 5 colours and some knitting needles and some crafty confidence, but it will be well worth it when your teacher sees what an effort you've gone to create something so unique for them.
20. Tea Wreath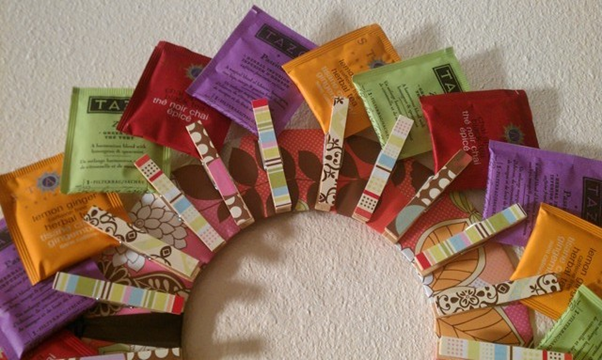 If your teacher is a big tea drinker then this tea wreath will make them very happy on the last day of term! Using patterned paper to cover wooden pegs and card, all you'll need to add is individually wrapped tea bags and your teacher will have a different hot drink every day! This is a really simple DIY teacher gift that anyone can make.
Summary
So those are just some of our favourite homemade thank you teacher gifts. Within the list, we've included everything from sweet gifts to things that will actually be useful. If none of those takes your fancy or you just don't want to spend the time making something then you can always check out our range of Thank You Teacher Gifts.
Or if you're looking for more craft inspiration then don't forget to check out the rest of the arts and crafts section on the blog.