We all know how important it is to have a healthy diet. The problem is that it's become harder to know what healthy eating looks like. There's so much information out there around what you should and shouldn't do.
That's why we've decided to pull together 8 super simple tips on healthy eating from some of our favourite books on the subject.
Once you're done reading these tips, hopefully, it becomes a little bit easier to navigate the minefield that is healthy eating.
Tip #1 Avoid Processed Foods - The World's Fittest Cook Book by Ross Edgley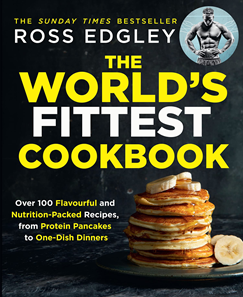 Excerpt: "Eat nutrient-dense, unprocessed food. Or as our ancestors called it, "FOOD."'
Ross Edley's approach to healthy eating and fitness is based solidly on science. He urges readers to form dietary habits that appease your 'inner chef', 'nutritionist' and 'personal trainer'.
Edgley encourages us to avoid processed food and go back to home-cooked, natural food to help us avoid high salt, fat, sugar and calorie content. For example, our ancient ancestors would have hunted down food with high calories, fat and sugar as a means to survive. Back then, the next meal wasn't guaranteed, so we were hard-wired to enjoy those types of foods more than anything else and to eat as much of them as possible. Fast forward a few thousand years, and that hard-wiring hasn't changed. We crave the sugary doughnuts and the deep-fried carbs, but these foods are no longer 100% natural and are instead full of things that make us gain weight and are bad for our health in the process.
Essentially, our food has evolved, but our bodies haven't, so if you are trying to eat healthy, avoiding processed food is great advice.
To purchase the cookbook, click here.
Tip #2 Intermittent Fasting - The fast 800 Keto by Dr Michael Mosley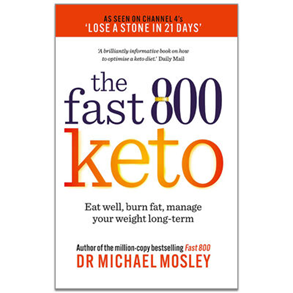 Excerpt: "I decided to make a film for the eminent BBC Science series, Horizon, all about intermittent fasting called 'Eat, Fast, Live Longer'. I wanted to see if I could use this approach to cure myself of Type 2 diabetes…I put myself on a 5:2 intermittent fasting diet, lost 9kg and returned my blood sugars to normal."
Type two diabetes is a genuine issue for millions of people worldwide. It can cause heart disease, stroke, high blood pressure and nerve damage. When you're overweight, the chances of you developing type 2 diabetes are 7 times greater than if you remain at a healthy weight. So, when this author was diagnosed with the condition, he knew he had to do something fast. So he developed a healthy eating regime that combined intermittent fasting and a keto diet.
Aside from promoting blood sugar control, intermittent fasting can also help your body fight inflammation and enhance heart health. As one of our top healthy eating tips, fasting also boosts metabolism to help you lose weight and even boost brain function!
You can get your copy of the Fast 800 Keto, here.
Tip #3 Reduce Your Calorie Intake - Slimming Eats by Siobhan Wightman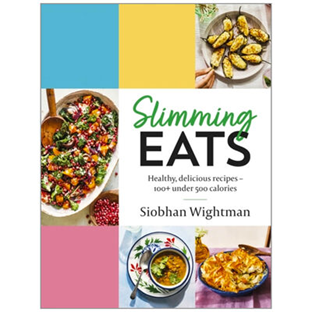 Excerpt: "I soon realised that I didn't need to eat boring restrictive meals to lose weight, that with just a few changes and tweaks to cut the calories I could have all the delicious meals that I loved."
Reducing the number of calories you consume and increasing your exercise will only result in one outcome - you will lose weight. Sounds simple, right!? Well, yes, but if it was THAT simple, nobody would be overweight. The hard part is maintaining a healthy diet and regular exercise. If you're not sure how to cut the calories when cooking, this book from food blogger Siobhan Wightman could be very helpful!
Wightman's cookbook is literally full of recipes under 500 calories per portion. So you can choose anything you like from Slimming Eats, and be rest assured that you'll be keeping your calorie intake low. Each recipe is packed with flavour, too, so you are less likely to fall off the wagon.
Using a book like this will teach you how to eat healthy from scratch, so why not get stuck into these delicious recipes here.
4. Tip #3 Plan, prep and batch cook - Two chubby Cubs by James Anderson and Paul Anderson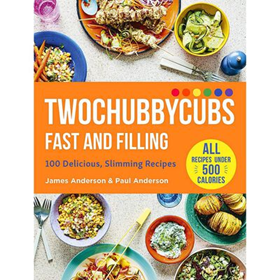 Excerpt: "Label your leftovers, including whether it's cooked or has gone in raw. This eliminates the game of defrosting something to see what it is and realising you've got half a tiramisu to serve with your dirty rice."
Often, we can start the week with the best of intentions, but if we are not adequately prepared and healthy food is not a convenient choice, we can quickly slip. Then before we know it, we're on our favourite app ordering a takeaway.
By investing a little time in planning, prepping and batch cooking, there are no excuses. All your healthy and nutritious meals will be ready and waiting for you to enjoy them!
In their book, Two Chubby Cubs provide 100 low-calorie recipe ideas and tips on how to batch cook and freeze your meals to help you stay on track to a healthier you.
Grab your copy here.

Tip #5 Avoid takeaways with a fakeaway! - Pinch of Nom by Kate Allinson and Kay Featherstone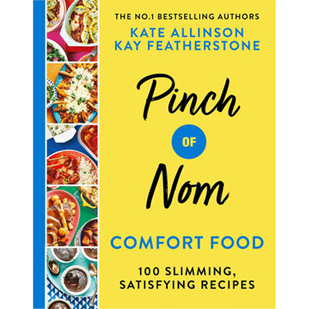 Excerpt: "Kung Pao Pork - This Chinese-inspired dish has the perfect balance of sweetness, saltiness and spice: We've used baked instead of fried, and a few clever ingredients swaps to create a dish that's low on calories without sacrificing flavour."
Takeaways are like kryptonite to those who love their food. Having your favourite dishes delivered to you is one of the most tempting things in the world. The problem is, they're often the least healthy thing you've eaten that week.
That's why the concept of "the fakeaway" has become so popular. And Pinch of Nom are the masters of "the fakeaway".
The Pinch of Nom series of cookbooks has revolutionised our weekend treats and helped us to cook our own kebabs, burgers, Chinese and Indian dishes to rival the local takeaway and keep our calorie count low.
Swapping out takeaways for fakeaways will see you saving hundreds of calories to help boost your weight loss without compromising on taste. So throw away those menus and delete those takeaway apps and instead, try out the Kung Pao Pork in the latest edition of Taste of Nom, here.
Tip #6 Go for brown to keep your weight down - The Slimming Foodie by Pip Payne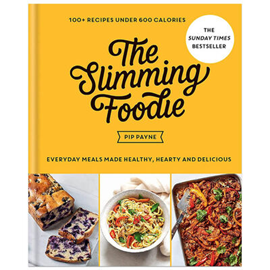 Excerpt: "I love the slightly more chewy texture of brown rice, and it's ideal for a filling side dish. Brown rice is also a great swap for white rice, for its increased fibre levels."
There are a few 'easy swaps' we can make to help us eat healthier, and choosing brown rice, pasta and bread instead of white is a straightforward and effective swap with huge health benefits. Brown, wholemeal foods contain higher fibre than their white counterparts, and increasing fibre in our diets is great for our health! For example, eating more fibre can lower the risk of heart disease, stroke, type 2 diabetes and bowel cancer. Another great thing about fibre is that it makes us feel more full - perfect if you're trying to eat healthily.
The Slimming Foodie advocates for brown rice and pasta, with all recipes under 600 calories. Take a look here.

Tip #7 Get more sleep - Lean in 15 by Joe Wicks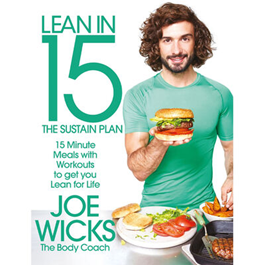 Excerpt: "A common side effect of a sleep deprived night is a craving for sugary foods. I personally want to eat every single carb I can get my hands on after a rough night's sleep… Not only will your body crave sugar, but your appetite will also increase… it's easy to see why sleep can have a huge impact on your body fat levels."
Getting enough sleep may not seem like it's a healthy eating tip, but if you were to track your sleep versus how you're eating - you'd more than likely find it has a huge impact. That's because when we don't get a good night's rest, our hormones change our mood, and our mood alters what food we want to eat. The end result is that we choose the unhealthy stuff.
So, think about how you can improve your sleep. For example, ditch all screens at least half an hour before bed - we all know how addictive social media can be, and it's easy to stay glued to your phone into the early hours. Instead, take a bath before bed and read a few pages of a book to unwind, maybe even do some mindfulness meditation to help you drift off into a deep sleep.
Joe Wicks understands the importance of a good night's sleep when it comes to staying healthy both physically and mentally. And alongside the bedtime tips in his book, he provides some delicious lean recipes and short, high impact exercises to get your body moving. Take a look at his book, Lean in 15, here.
Tip #8. Eat more Fruit and vegetables - You are what you eat by Dr Amir Khan and Trisha Goddard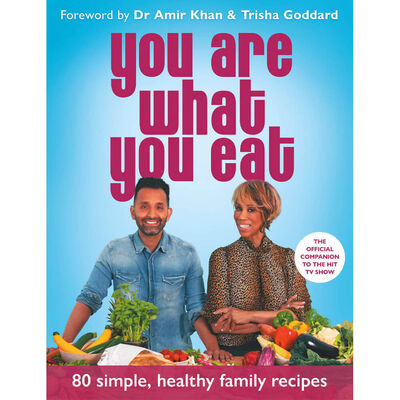 Excerpt: "Fruit and vegetables are a good source of a variety of vitamins and minerals, including folate, vitamin C, potassium and phytonutrients. They are also an excellent source of dietary fibre, which helps maintain a healthy gut, prevents constipation and reduces the risk of bowel cancer."
If you were to only commit to one tip from this list, it should be eating more Fruit and Veg. The problem is that sometimes eating it can be a bit boring or feel like a chore. Thankfully there are some fantastic recipes in this book from the TV series "You are what you eat".
Read more about a healthier lifestyle with a copy of the book, here.
So there you are 8 tips on healthy eating from some of our favourite health and lifestyle books. If you love self-help books and are wondering what else to read, we've got posts on the best books for anxiety and the best books on mindfulness. Enjoy!