Cook something up - This framed cross-stitch picture is so easy but will look impressive in your kitchen
Looking to add a touch of personality to your kitchen or send a gift to a foodie friend? This framed cross-stitch picture is so easy to make. With just three simple steps, you can create a unique piece of kitchen decor that reflects a real passion for cooking.
We love this craft because it's a super easy project, perfect for beginners, that both looks good and is satisfying to complete.
So grab your needle and thread, and let's get stitching!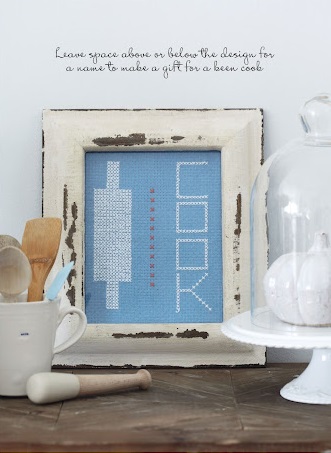 Equipment & Materials:
- Enough 6-count Binca cross-stitch fabric to fit your frame, plus 2cm all round
- 2 colours of embroidery thread
- Tapestry/cross-stitch needle
- Scissors
- Fabric pencil
- Picture frame
How to make it: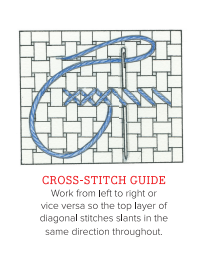 Step 1 - Use the fabric pencil to draw a rolling pin and 'Cook' on the Binca fabric so that it fits nicely in your frame. Follow the squares to get the shape. (Our design is 48 squares deep. The rolling pin body is 30 squares deep and 12 wide. The handles are each nine squares deep and four wide. All the letters are 10 squares wide. The C and K are 12 squares deep and the Os are both 10 squares deep with two squares between them rather than one. The gap between the rolling pin and `Cook' is 14 squares wide.)
Step 2 - Work the design in cross stitch — the fabric has holes in the correct positions to make it easier to follow (see right). Finish with a vertical row of cross stitch in a contrasting colour down the centre of the design.
Step 3 - Press the fabric on the back using a hot iron. Cut the fabric to fit the frame to finish.
Happy crafting!
Congratulations on finishing your beautiful cross-stitch picture! It's sure to give your kitchen a little extra personality or make a fabulous gift for any foodie!
If this craft has given you an appetite to do more, we've got some amazing makes on the blog, including how to knit a little Penguin, how to make squidgy bean-bag cushions and how to make floral patchwork cushions . Or, if you're looking for more cross-stitch crafts, then you can check out some of the sewing kits we have available online.